blog
Editor's Picks: Top HVO Blog Posts of 2017
For HVO staff, leadership, volunteers and supporters this past year was a time for both reflection and forward planning. In April, we were joined by many members of our global health community for a one-day symposium in Washington, DC. The symposium was a celebration of HVO's 30th Anniversary, and an opportunity to plan for the future. Reflecting on past challenges and accomplishments helped guide discussions of new directions for organizational growth. These discussions began well in advance of the symposium and continued long after the Chair of the HVO Board of Directors, Jody Olsen, PhD, MSW, delivered her farewell address.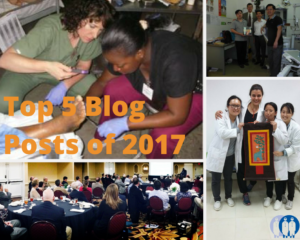 This dialogue was not limited to in-person meetings and events. In 2017, the HVO blog provided a hub for conversations about HVO's role in the context of the ever-changing global health sector. Our Trends in Global Health series, in particular, provided a platform for HVO leadership to share their insights into new developments in the field. Posts ranged from addressing changes in specific specialty areas to discussing broader trends in international development and volunteerism.
In addition to the new Trends in Global Health series, the HVO blog continued to provide a space where our community members could learn about new HVO projects and stay up-to-date on existing projects and other HVO news. In case you were not a regular reader in 2017, or if you were but want to revisit some of your favorite content, we've recapped a number of our top posts from the past year below. We look forward to continuing to share the latest HVO news and reflecting on various global health topics in the year to come!
One of our most popular blog posts in 2016 was a guest post by HVO volunteer and leader Linda Wolff, MPT. Ms. Wolff wrote about her May 2016 trip to Thimphu, Bhutan, where she helped deliver a Wheelchair Service Provision Training program developed by the World Health Organization (WHO). In 2017, Ms. Wolff and colleagues returned to Thimphu to deliver a follow-up training. Prior to her departure, she shared an update with HVO staff regarding the latest volunteer activities at HVO's physical therapy training project at Jigme Dorji Wangchuck National Referral Hospital in Thimphu. We shared this update with the rest of the HVO community through our blog. Keep an eye out for additional content related to this project in 2018 and beyond!
The second installment in our Trends in Global Health blog series came from the Chair of the HVO Board of Directors, Jody Olsen, PhD, MSW. Dr. Olsen wrote a compelling account of her trip to Chikwawa, Malawi, where she served as the leader of an interprofessional team of volunteers tasked with reviewing 12 maternity clinics in the district through the lens of the WHO Safe Motherhood research methodology guidelines. Dr. Olsen's experience in Chikwawa opened her eyes to the power of storytelling to improve global health, an insight she shared with HVO blog readers.
In January 2017, we used the HVO blog to provide details on a special two-hour session ("How Can I Volunteer Overseas?") that took place during the American Academy of Orthopaedic Surgeons Annual Meeting in March. Our outline of this session—which included a presentation by HVO Executive Director Nancy Kelly, MHS, on the nuts and bolts of volunteering overseas, as well as a panel discussion featuring HVO project directors and volunteers—became one of our most read blog posts of 2017. The post also included information about the joint luncheon HVO hosted in partnership with the  Société Internationale de Chirurgie Orthopédique et de Traumatologie (SICOT) for meeting attendees who wished to celebrate and discuss global orthopaedic care.
Whether you are an AAOS member or a member of a different specialty organization that sponsors HVO, keep an eye on our blog for the latest information on which meetings HVO will be attending and how you can connect with HVO staff, volunteers and supporters! You can also follow us on Facebook, Twitter, LinkedIN and Instagram for real-time updates.
If you are attending the AAOS 2018 Annual Meeting, you can purchase your tickets now for this year's HVO-SICOT joint luncheon. Do not delay – space is limited and may sell out!
In June 2017, we featured a post highlighting HVO's wound care program, along with information on the American Association for the Advancement of Wound Care (AAWC)-HVO Traveling Grant available to eligible AAWC members. We loved showcasing the impact that our wound care volunteers have at the project sites where they work and promoting this ongoing funding opportunity.
For those not specializing in wound care who are in need of financial support to offset the cost of their volunteer assignment, our Fellowships & Funding page provides information on current funding opportunities.
When 2017 Golden Apple Award honoree Charles Bloomer, DDS, sent us the story of how he first became involved in global volunteerism, we were eager to share that story, along with Dr. Bloomer's subsequent accomplishments. Dr. Bloomer was inspired to volunteer overseas after attending a lecture delivered by HVO volunteer and leader David Frost, DDS, MS. Over the course of the 15 years that followed, Dr. Bloomer transformed from a nervous, first-time volunteer to a seasoned expert who recognizes that his own practice has improved as a result of time spent working alongside his international colleagues.
If you know of an exceptional HVO contributor who you would like to see honored alongside Dr. Bloomer and others, nominate them today to receive a 2018 Golden Apple Award. Nominations are due February 23, 2018.
Comments are closed.