blog
Fostering Dialogue on International Partnerships to Improve Global Health
Last year, as HVO marked 31 years of service, we shared an article co-authored by HVO's Director of Program Design & Evaluation, April Pinner, MSPH, RD and Executive Director, Nancy Kelly, MHS — Health Volunteers Overseas: 30 Years of Leveraging International Partnerships to Strengthen Health Worker Capacity. In the article, Ms. Pinner and Ms. Kelly note that global health organizations like HVO must continually evolve to meet the changing needs of our international partners and the communities they serve.
In the wake of HVO's 30th Anniversary Symposium, and in the year that followed, HVO staff, volunteers and leaders – both in the US and abroad – continued to discuss and reflect on how the organization could strengthen current partnerships, forge new relationships in order to address emerging challenges, and seize opportunities within the global health sector.
These discussions did not take place in a vacuum. Instead, we drew inspiration from like-minded organizations and individuals considering the same topic from their own unique perspectives. Over the course of the last year, HVO has been honored to both participate in and help moderate the ongoing conversation on best practices and new models of collaboration to further advancement towards the sustainable development goals.
In March, HVO's Evaluation Coordinator Meng Xiong, MPH presented his poster, "Health Volunteers Overseas 2016 Review of Programs: Evidence for Successful Volunteerism and International Partnerships to Address the Global Health Workforce Shortage," at the 9th Annual Consortium of Universities for Global Health Conference in New York City. In April, Ms. Kelly highlighted the role of international partnerships in achieving universal health coverage in an article on the PYXERA Global Engagement Forum. In June, HVO Deputy Director Beth MacNairn, MA moderated a panel on "Building Health Workforce Capacity for Resilient, Responsive and Inclusive Health Systems," during the CORE Group Global Health Practitioner Conference outside of Washington, DC.
Today, we are pleased to share HVO's latest contribution to this critical conversation. HVO has partnered with the open-access online journal Frontiers to sponsor the Frontiers in Public Health Research Topic, "International Partnerships for Strengthening Health Care Capacity: Models of Collaborative Education."  This Research Topic has been compiled into an eBook consisting of 33 peer-reviewed articles submitted by 163 authors representing a wide range of health specialties and areas of expertise. These authors represent 28 different countries and 96 unique organizations and institutions. Each manuscript demonstrates how sustainable partnerships and programs in education build workforce capacity. We are thrilled to share the e research and perspectives of each of these organizations and individuals with you.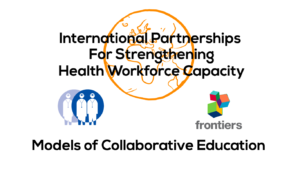 Of course, partnership was essential to the success of this endeavor, as it is to each of HVO's undertakings. In addition to Frontiers, we are indebted to each of the four editors who generously donated their time and expertise to support this project: Jeanne Leffers, PhD, RN, FAAN (Lead Editor); Jennifer Audette, PhD, PT; Kevin S. Hardwick, DDS, MPH; and William Van Cleve, MD, MPH. We are also grateful to the authors for contributing peer-reviewed content that will build our collective knowledge in the field of global health, strengthen our understanding and inform future capacity building efforts.
We hope this journal will serve as both a resource and a jumping off point for ongoing dialogue on how to build, maintain, and enhance international partnerships to improve health workforce capacity and achieve universal health coverage. HVO remains committed to this goal as we enter our 32nd year and beyond.
As Ms. Kelly noted in the HVO announcement of the new eBook, "We want to start a global dialogue. This eBook, created through a unique collaboration with Frontiers, is a resource that we want the global community to leverage in order to advance discussions around strengthening health workforce capacity, to promote sustainable global partnerships, and to support future research."
Comments are closed.