blog
Improving Women's Health through Partnership on International Women's Day
Every year, an estimated 287,000 women die due to complications during pregnancy and childbirth. 99% of these deaths occur in low- and middle-income countries. Appropriately trained health workers are needed to address health challenges and save lives. However, there is a critical shortage of health care providers, including providers specializing in obstetrics and gynecology (Ob-Gyn), in resource-scarce countries across the globe.
HVO is striving to address this shortage through our Ob-Gyn program, supported by the American College of Obstetricians and Gynecologists (ACOG). This program connects highly-qualified and dedicated volunteers with their counterparts at health institutions in resource-scarce settings, such as Makerere University and Mulago Hospital in Kampala Uganda. Together, HVO volunteers and their international colleagues are working to improve the quality and availability of women's health services.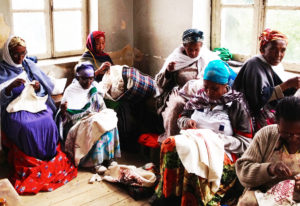 "The priority everywhere is to decrease maternal and neonatal mortality," says Meg Autry, MD, director of HVO's Ob-Gyn project in Kampala. "I wanted to collaborate and try to help physicians and teachers in Uganda improve their health care provision to women."
Dr. Autry, who has been volunteering internationally for over a decade, notes that solutions to overcome challenges resulting from a lack of resources are sometimes unexpected. For example, she and her colleagues at Mulago Hospital are currently endeavoring to implement minimally invasive, laparoscopic surgical procedures—a priority she acknowledges may seem strange to an outsider looking in.
"But the advantages in Uganda are even more important than they are in the US because there's overcrowding in the hospitals, and there's a lot of morbidity with infectious complications of wounds," Dr. Autry explains, elaborating that a decrease in more invasive procedures, "would improve the overall burden on the system as well as the individual burden of having (invasive surgery)."
In addition to deepening her understanding of how to address morbidity and mortality in the context of a resource-limited health system, Dr. Autry notes a number of other ways in which international volunteerism has contributed to her professional development.
"… It is an incredible experience to work beside really knowledgeable and dedicated doctors who are limited only by the resources available to them," she reflects, adding that relationships built with her Ugandan colleagues have extended well beyond the confines of a single volunteer assignment. "We have published together, and I have helped mentor graduates and I consider them good friends. We communicate on WhatsApp constantly – for clinical and research questions."
Volunteers to HVO's project in Uganda serve a minimum of one week, giving lectures, providing surgical training, and mentoring local health workers while on-site. In addition to our project in Uganda, HVO is seeking volunteers for 2-4 week assignments at Ob-Gyn project sites in Haiti and Vietnam.
You can apply now to volunteer to improve the quality and availability of women's health care around the globe through our Ob-Gyn program!
Not an obstretrician or gynecologist? Use our Project Finder to identify a volunteer opportunity that is the perfect fit for your qualifications, or donate to support our work to empower health workers and transform lives through education!