blog
Nurses: A Voice to Lead Health for All
HVO envisions a world where all people have access to high quality health care delivered by local health professionals. We know how essential a well-supported health workforce is to realizing our vision – and, on International Nurses Day, we are highlighting and celebrating the role of nurses in particular.
Each year, Nurses Week culminates in International Nurses Day, when we recognize the extraordinary contribution that nurses make to health care around the world. This year on May 12, we are focusing on the importance of nurses in achieving Universal Health Coverage. As the International Council of Nurses notes, "Nurses are essential in transforming health care and health systems such that no person is left behind, without access to care or impoverished because of their need for health care."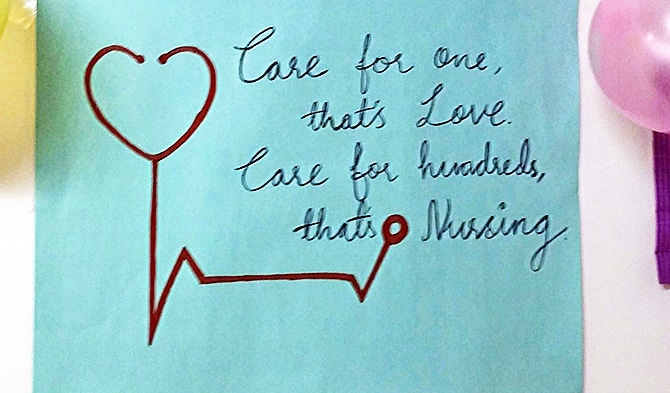 At HVO, we understand the essential role that nurses play in health systems around the world. Through our nursing education program, HVO collaborates with overseas nurse education programs to expand skills, knowledge and professional opportunity for nurse educators and nursing students in resource-limited settings. Our volunteers work closely with their colleagues to expand skills and knowledge and create new opportunities for nurses to lead. We know that building workforce capacity and supporting global nurse leaders is an essential part of realizing our vision of a world where people at all stages of life, no matter where they live, have access to health care.
With the support of our partners at the American Association of Colleges of Nursing (AACN), HVO is able to facilitate assignments for dedicated nurses at project sites around the globe. Collectively, these volunteers help prepare practicing nurses and those-in-training to provide an array of health services. In 2018, HVO nursing education volunteers trained more than 120 providers across seven active project sites.
If you're ready to get started, read more about our nursing education projects and complete your application.
Not a health care professional? You can still help support nurses and advance nursing education projects around the globe by donating to the Plotnick Nursing Education Fund.
Comments are closed.