blog
Sustainable Progress to Improve the Care of Mom and Baby
Last week the United States Agency for International Development (USAID) released Acting on the Call 2018—the latest report on the agency's effort to save the lives of 15 million children and 600,000 women by the year 2020. To achieve this goal, the agency is investing in health system strengthening and capacity building initiatives in 25 priority countries that account for more than two-thirds of all maternal and child deaths worldwide.
The theme of this year's report is the journey to self-reliance, defined as "a country's ability to plan, finance, and implement solutions to its own development challenges." The authors identify key areas of investment to foster sustainable improvements in maternal and child health outcomes within each partner country.
One of the key areas of investment is health workforce capacity. This includes enhanced leadership and supervision within the health care sector, redistribution of current workers to reach underserved communities, and recruitment and training of new health care providers.
In addition to saving lives through increased quality and availability of care, a robust health workforce can lead to cost savings through more efficient delivery of health services. When patients receive appropriate treatment in a timely manner it results in shorter hospital stays and a reduction in demand for more costly, high-risk procedures. In Acting on the Call 2018, USAID reports that standardized training for health workers in Kenya contributed to 30% cost savings.
Investing in the education and training of health workers also leads to increased innovation in the form of new medical technology and new methods of service delivery. For example, at last year's DevelopmentXChange Saving Lives at Birth event in Washington, DC, Dr. Data Santorino of HVO's collaborating institution Mbarara University of Science and Technology (MUST) received an award for his Augmented Infant Resuscitator (AIR) device. This device attaches to resuscitation bag-masks used to treat birth asphyxia, enabling health workers to achieve ventilation sooner and maintain it longer, resulting in more lives saved.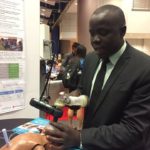 By connecting institutions like MUST to the resources needed to educate and support health workers like Dr. Data, HVO is helping to ensure continued, sustainable progress within the global health sector. The latest Acting on the Call report serves as a reminder that health workforce capacity is a pillar of sustainable development. When you invest in health workers, the impact of that investment reverberates throughout the entire health system in the form of costs savings, increased innovation, and improved health outcomes. The result is better care for mom and baby not only during pregnancy and childbirth, but throughout their lives.
Support our mission to improve global health workforce capacity by volunteering or making a gift to HVO.
Photo: Dr. Data demonstrates how to use the AIR device. May 2017.
Comments are closed.