blog
Health Volunteers Overseas has so much to be thankful for this holiday season.
We are thankful for partnership. Our overseas partners enable our volunteers to have real and lasting impact on the communities they serve. Our sponsors provide necessary resources, including the most important resource of all—human capital. By connecting us to passionate, dedicated individuals, our sponsor organizations help keep HVO's project sites staffed throughout the year, and, in 2016, enabled us to facilitate 410 assignments for 388 volunteers.
Each HVO volunteer creates a ripple in the pool of available health workers in the country where they serve. This ripple emanates out, affecting not only those with whom the volunteer comes into contact, but many others throughout the country and region as a whole. At Angkor Hospital for Children (AHC) in Cambodia, a training module introduced by HVO volunteer and leader Richard Henker, PhD, RN, CRNA, FAAN, is now delivered regularly to hospital staff, as well as staff from other local health care centers. This is possible because of a "train-the-trainer" course delivered by Dr. Henker, which equipped AHC providers to lead the training without external support.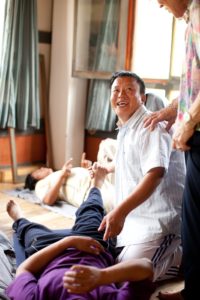 We are thankful for this type of collaboration because it means that the nearly 4,000 providers trained by HVO volunteers in 2016 are only the beginning. For every provider who receives direct support from an HVO volunteer, countless more benefit from an exchange of knowledge that occurs among local providers at our project sites. This in turn leads to better patient care, as evidenced by the 67% of HVO project sites who reported improved patient outcomes in 2016.
We are grateful for the lives saved and transformed by the care health workers provide. Patients receive life-saving care and improved quality of life. Family and friends gain more time with their loved one and the opportunity to witness life improve from the care received. This impact, which begins with the teaching, training and professional collaboration brought by HVO volunteers, cannot be quantified.
Similarly, the extent of our supporters' impact is difficult to measure. We can tell you that $25 allows us to print teaching materials for a classroom full of nursing students, or that $100 enables us to purchase a reference textbook for a medical library. We can even tell you that $1,000 covers the costs associated with facilitating a volunteer assignment. But how many health workers will receive training, either directly or indirectly, as a result of that assignment? How many students will thumb through the pages of that reference textbook? How many lives will those nursing students transform throughout their careers? In reality, $25 funds so much more than the cost of printing. A gift to support HVO is an investment in global health workforce capacity and, like any good investment, it will continue to grow and pay dividends for years to come.
We are so thankful for the support of our global health community. Whether this support comes in the form of a monetary donation, or a donation of time, expertise and brain power, each investment is essential to our continued impact in the lives of health workers and patients around the world.
THANK YOU.
In this season of gratitude, we encourage you to celebrate the health workers in your life. Say 'thanks' by making a gift in their honor, or, if you're celebrating an HVO volunteer, consider nominating them for the 2018 Golden Apple Award.
Comments are closed.