blog
Volunteering in Bhutan as the Pandemic Erupted
Trenton Harper, a nationally registered paramedic, served in Bhutan for six months on a Rita Feinberg Fellowship. He shared his thoughts on the experience with an HVO staff member.
On the 14th of January I arrived in Bhutan, through HVO, as a Feinberg Fellow.  Shortly after my arrival, I began my assignment collaborating with the Khesar Gyalpo University of Medical Sciences of Bhutan (KGUMSB) and Jigme Dorji Wangchuck National Referral Hospital (JDWNRH) in Thimphu, on the country's new emergency medical responder (EMR) training program. The new 3-year program would be graduating its first class of advanced life support level pre-hospital providers in June. The EMR scope of practice is relatively equivalent to a paramedic, although more limited in some regards while more advanced in others. The primary goal for my position was to provide field training and preceptorship to students completing the last semester of their second and third years. The hope was that I would help translate the training they had received from their emergency medicine physician and nurse instructors as well as their in-hospital clinical experiences to the out-of-hospital environment. The third-year students were scheduled to graduate in June before being placed at regional hospitals throughout Bhutan.
You had recently arrived in Bhutan when the pandemic began appearing in the US.  What sort of response to COVID-19 did you see in Bhutan?
Although the first cases and fatality from the not-yet-named novel coronavirus had been documented in China before my arrival to Bhutan in mid-January, it seems clear that few anticipated the impact this would have on the world. The WHO declared the outbreak a public health emergency of international concern by the end of January, after cases were confirmed in multiple other countries, including the US. By February the virus occupied most of the media and weighed on the minds of many. As the government of Bhutan began formalizing implementation of its preexisting response plan for a viral outbreak, outwardly things remained seemingly normal in the capital of Thimphu through the beginning of March. Although appropriately concerned for what seemed inevitable, I continued to share the EMR students' weekly schedule of classes, clinical rotations, and requests for ambulance transport.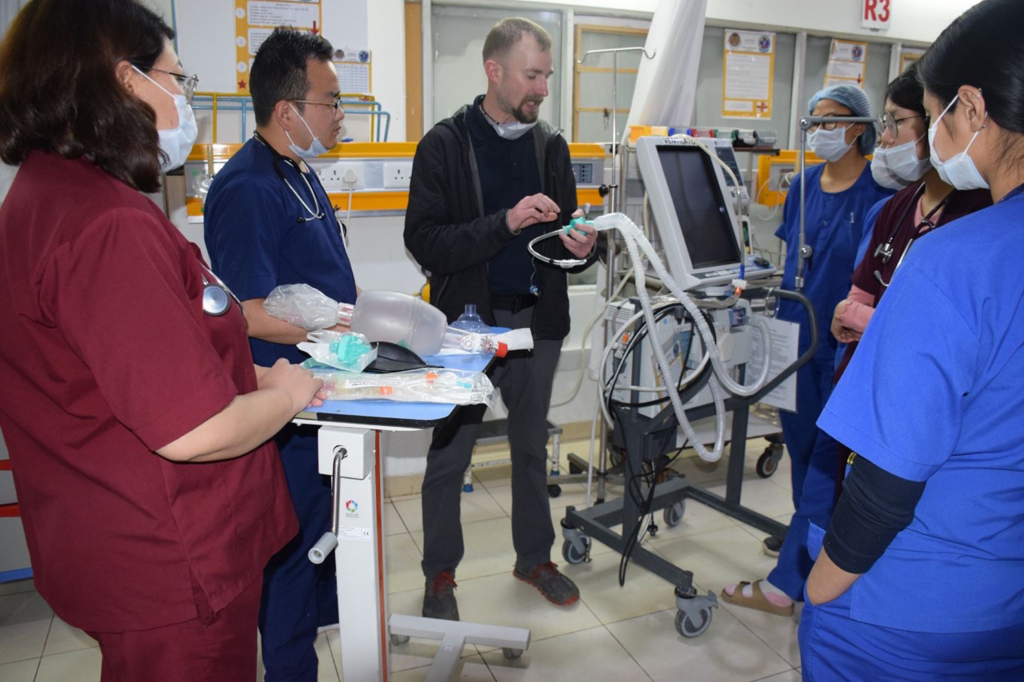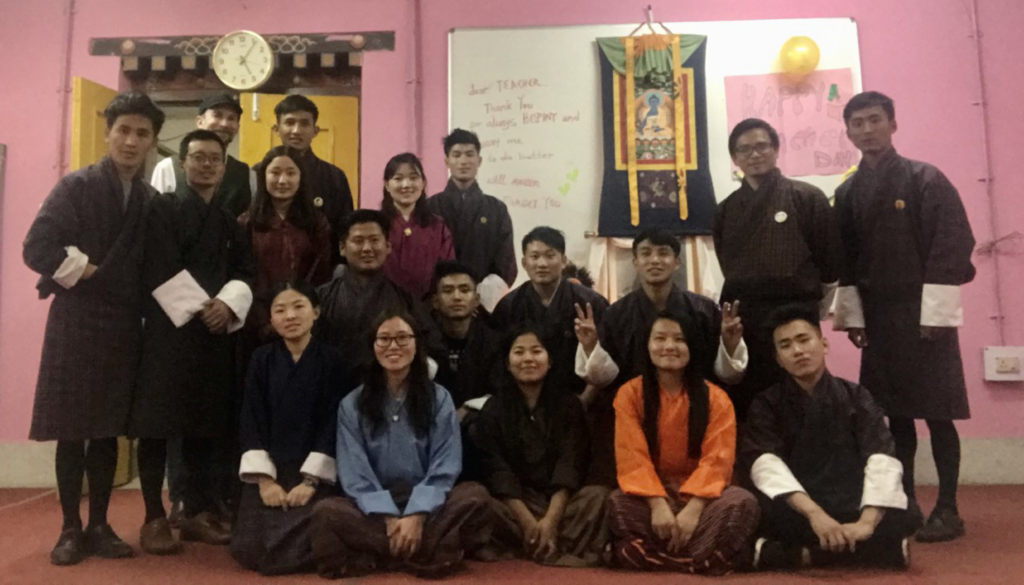 All of this changed on March 6th when the 76-year-old American tourist, who was to become Bhutan's index COVID-19 case, presented to the emergency department of JDWNRH. The Ministry of Health began immediate contact tracing after confirmation, identifying approximately 90 close contacts who were quarantined at home or in designated quarantine facilities depending on their level of exposure. Multiple health workers with close contact were quarantined (including one EMR student), with some physicians and nurses moving into roles as members of the patient's dedicated medical care team. They would remain in isolation with the patient until he was evacuated to the United States on March 13th; they then completed a period of quarantine before returning to their regular positions.
The patient's American travel partner would subsequently test positive around her 14th day of quarantine despite remaining asymptomatic throughout. Her case resulted in an extension of the required quarantine time from 14 days to 21 days for the many Bhutanese citizens who began returning home from abroad via government sponsored repatriation flights. Although obviously unfortunate for the patient, who did ultimately survive, the case offered the country an opportunity to fully implement its public health strategies and motivated participation from its citizenry.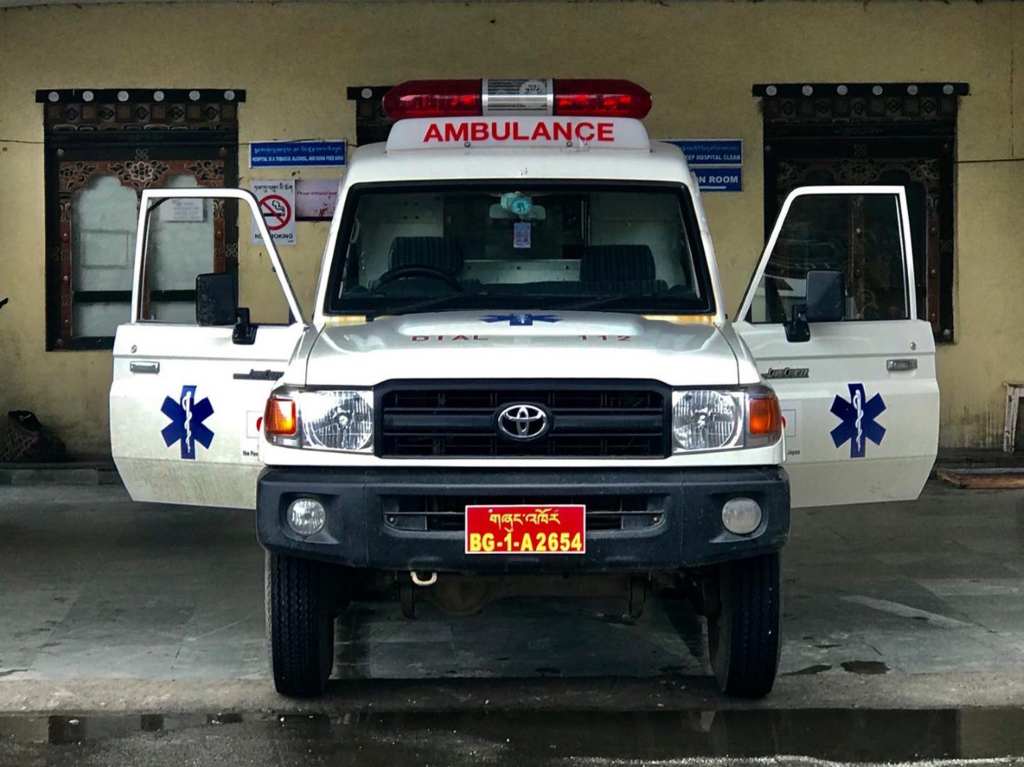 By the time the WHO declared COVID-19 a pandemic on March 11th, Bhutan had imposed restrictions that included the entry of foreign citizens and the cancellation of classes in Thimphu; the students I was there to serve were sent home indefinitely. Many businesses closed as social distancing, wearing of face coverings, and hand washing were emphasized and acted on.
I transitioned to working shifts in the ED, going on the now rare request for ambulance transport (with a new level of PPE), and deepening my friendships with my Bhutanese colleagues and the other remaining HVO volunteers. I witnessed the relatively small capital city transform from its bustling baseline to a much quieter, distanced version of itself. For the first time I walked to work without the need to step aside for others on the sidewalk; the cultural norm of unaggressive bumps as you walk past on the typically busy sidewalks was gone; providing a wide berth was the new norm (especially for an obvious westerner such as myself).
The number of patients in the ED dropped drastically as staff worked to implement the many new changes to everyday operations. Separate clinical spaces were established adjacent to the main hospital: a mobile "flu clinic" through which many patients requiring COVID-19 screening were funneled, separate units for suspected and positive cases, and housing for the COVID care teams as they rotated through service. As was the case for health care providers around the world, the learning curve was steep… from the complexities of critical care practices to the relatively simple donning and doffing of PPE, I watched as all level of staff rose to the occasion
Internal travel between dzonghags (districts) was limited and on March 23rd borders shared with the Indian states of Sikkim, West Bengal, Arunachal Pradesh, and Assam were officially closed, although the transport of essential food and supplies continued. Meanwhile, India announced its 21-day lockdown on the 24th of March. The northern border which Bhutan shares with the Tibet Autonomous Region of China has no official crossings due to preexisting political divides and the not so subtle geologic divide that is the high Himalaya; it goes without saying that no travel was occurring between the two neighbors.
Bhutan's approximately 750,000 citizens share a strong sense of community, national identity, a general trust in their elected government, and an unquestioning faith in their king. Prime Minister Lotay Tshering is a physician, while Health Minister Dechen Wangmo holds a Master of Public Health degree from Yale; Bhutan has obviously benefited from leadership fluent in the language of epidemiology and public health. The country's isolation and preexisting limitations on the entry of foreign visitors inevitably helped limit initial cases, but the continued commitment by the government and citizenry allowed Bhutan to go without community transmission for much of the year.
As the pandemic spread, and international flights were cancelled, you chose to remain in Bhutan for the duration of your six-month assignment, rather than return home.  What influenced your decision?
I did not consider departing prior to the beginning of March. Things remained seemingly normal, and I had clear day-to-day tasks and an overall purpose in working with the EMR students. It's also relevant to state that I'm single and although I was now in daily contact with family, it would not have been feasible for me to be with them if I returned. As was the case for nearly everyone in Bhutan, life changed after the index case. After the EMR students were sent home I was able to busy myself with tasks and projects, which hopefully benefitted some greater good, but I was left contemplating where I could be the most useful… or, where I might at least feel the most useful.
It was a strange time to be abroad and a painful time to be watching one's country from afar. As I followed developments around the world and specifically at home, I had no sense of what I should do. I made inquiries with the US Embassy in India. (The US does not have diplomatic relations with Bhutan, and thus there is no diplomatic presence there. Consular assistance to US citizens is through the US Embassy in Delhi). Although I am willing to accept more risk when there is a clear and immediate benefit, the situation did not easily fit into any of my mental models for risk-benefit analysis. It occurred to me that in my specific instance travelling to and being home might pose a greater risk than remaining in Bhutan, which was proving to be one of the safer countries in the world at the time.
My living situation in Thimphu was comparatively more stable than if I returned home as I had moved out of my apartment and placed my belongings in storage prior to departing in January. If I were to return home, I was uncertain how I might navigate moving into a new place while complying with a mandatory 14-day quarantine. I watched as other American citizens departed the country; the honest truth is that much of my reason for not joining them fell on my tendency towards procrastination and on my avoidance of how complicated it seemed to do anything other than to simply finish out my assignment and return home at a later date, hopefully after things had stabilized. I wasn't averse to remaining in the country longer as long as I had a purpose. Luckily, several of the third-year students eventually returned to volunteer their time at the hospital and by responding to ambulance calls. Their presence helped steer me back on course as I felt I could not abandon them in a time of uncertainty, as they faced the beginning of their new careers. Their desire to be of service recommitted me to helping them in their transition from students to actual care providers for the communities they would go on to serve.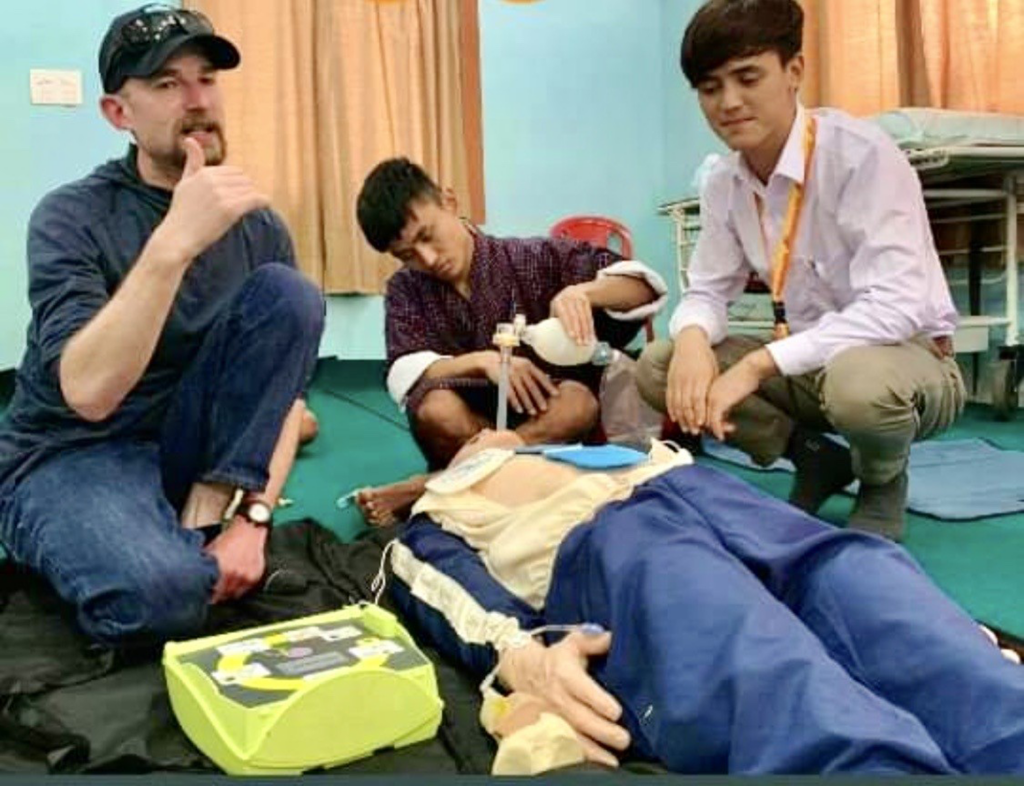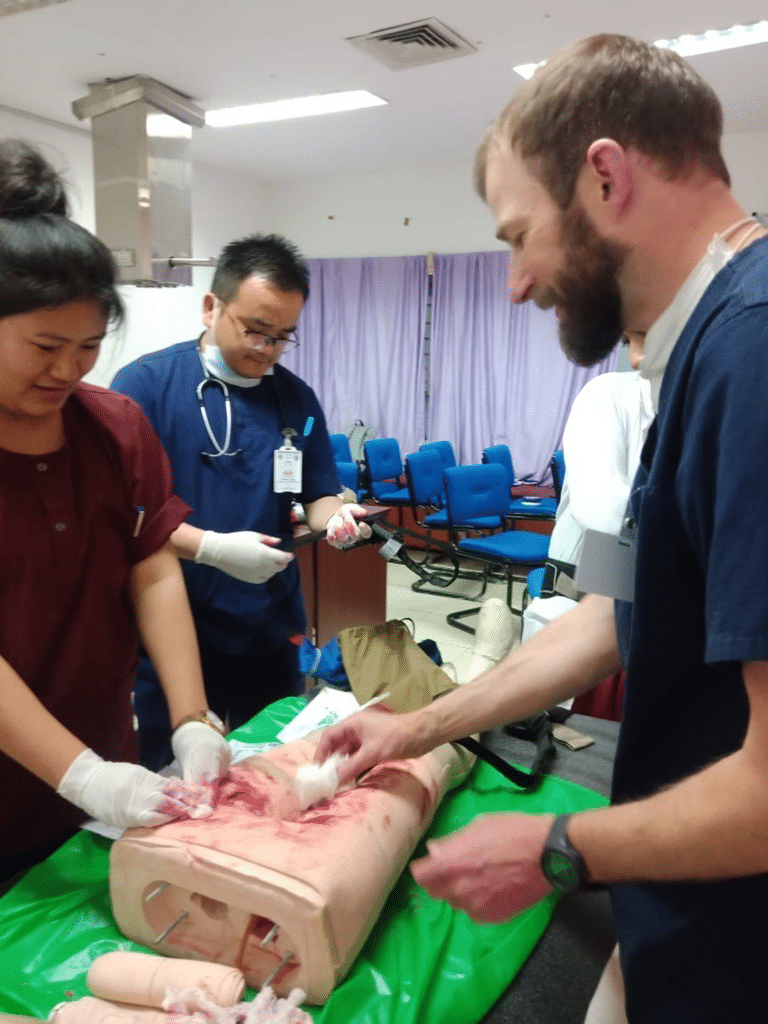 What sort of news about the pandemic were you receiving from home, and how did that make you feel?
Bhutan is exactly 12 hours ahead of where I live in Montana; for better or worse this allowed me to regularly tune into morning and/or evening news which provided me with a national and local daily update. I was also consuming what I would otherwise have considered an unhealthy amount of online news and podcasts covering the pandemic and the social unrest, which continues in America.
I stayed in touch with family on a weekly and sometimes daily basis. I remain impressed and thankful for my mother's resiliency and positive attitude as she adhered to best practices despite living in a state that was not always recommending or practicing such.
I spoke regularly with friends in various fields of medicine and social services as they navigated this new version of health care in the United States.  A dear friend was in her final year of emergency medicine residency at a Level 1 Trauma Center that was regularly beyond capacity prior to COVID-19. She related reusing PPE, treating potential COVID cases in open hallways before outside tents were established, and her surprise at the lack of precautions taken by ambulance crews as they delivered likely cases to her ED.  A physician assistant friend works as a provider at a walk-in clinic which became one of our town's primary COVID screening facilities; he had the honor of identifying our area's first confirmed case and went on to identify multiple other cases over the months ahead. After becoming symptomatic in June, he tested positive and earned a thankfully brief ICU admission. He is now back to work.
Multiple firefighters and one paramedic tested positive in the EMS system I have worked in for the past 15 years. The paramedic and her husband are longtime friends. I kept in touch as she remained home with seemingly mild symptoms for over a month, testing positive throughout. She has since tested negative but continues to navigate cardiac complications that had not presented prior to her diagnosis.
One friend is a social worker serving a rural community in the American west, another works providing housing for people with addictions in Philadelphia. Their comparing and contrasting of the dynamics of working with at-risk populations in drastically different social settings personalized some of the frustrations that began receiving more media attention as the pandemic progressed.
These personal communications were coupled with the blessing and curse that is social media, from which I greatly distanced myself at this point…
My emotions were anything but consistent. I swung from some sense of hope, that this might be the thing to inspire societies to more readily acknowledge each other's humanity; to a sense of dread as I watched the global fatality rates, and the US rate specifically, rise along with the amount of misinformation being shared. I eventually came back to simply focusing on my sphere of influence, not ignoring bigger issues while attempting not to dwell on them.
When you returned home at the end of June, you were returning to a very different environment than the one you left.  Returning home after being abroad for a while is always a bit of a cross-cultural adjustment.  How has this time been different?
I've travelled a fair amount and have spent months abroad in some remote areas of the world. Returning from Haiti after the earthquake in 2010 comes to mind as the only time that has come anywhere close to what I experienced in June, but it isn't a comparison. The hard part of past experiences has been returning to "normal" after the intensity (or simplicity) of where I have been.
The flight out of Bhutan took us to Singapore where we were met by a relations team who led us to a cordon offed area where we were fed snacks, drinks, and meals as we waited through our various layover times. They were clearly prepared for our arrival and went out of their way to show us kindness, as if they realized how disoriented we would be. After about 6 hours I departed for Zurich, Switzerland. This flight had a few more passengers but mostly remained empty. From Zurich I boarded a flight to JFK in NYC; I was seated in a row with others while almost an entire section remained empty behind me (I made my way to a new seat). It was the gentle ease back into my arrival in the States.
Arriving in NYC was my introduction to the new normal. I handed over my form, which indicated I had travelled through a high-risk area and retrieved my luggage. I was glad to be in NY, to look on the city as I made my way to a hotel for the night. I boarded a full flight to Denver the next morning, and from Denver another full flight to my much smaller home airport in Montana. Families of tourists were headed to local high-end resorts. It was surprising.
Over the next couple of weeks, I had to come to terms with the basics of new social norms. To be clear, it wasn't the restrictions but instead how lax so many people were being that surprised me. It occurred to me that I may not have experienced the amount of fatigue some were experiencing; it also occurred to me that some Americans had decided to simply not believe the virus was a threat to their community's health.
I returned to work as a paramedic. I spent a day with a senior medic getting acquainted with our PPE donning and doffing protocol, our now tiered response and screening criteria, and our ambulance decontamination procedures. We transported one suspected case that day. I worked a regular shift the next day. My partner and I transported a patient whose spouse had tested positive the previous day; it was no surprise when he tested positive as well. It bothered me to see the spouse walking their dog, interacting at a short distance with a neighbor.
What initially felt like being dunked into a bizarre new version of home has normalized, with me accepting that we will most likely continue to see ongoing cases for a long time to come.
Have you been in touch with your colleagues and students in Bhutan?  What are they reporting?
Thankfully, I was able to help the third-year students finish their final semester and exams before I departed at the end of June. They have since received their assignments and are now working throughout Bhutan. I have remained in touch through social media; I get the occasional question or story regarding a patient contact. Since I departed, the country has experienced an apparent case of community transmission along the border. This resulted in a national lockdown much stricter than anything previously enacted. Health care providers were required to travel directly to and from work and, otherwise, to remain at home. But, everyone made it through.
As of September 25th, the Ministry of Health reports that Bhutan has performed 132,345 tests and has experienced a total of 263 cases, 64 active, 199 recovered; they have had no deaths.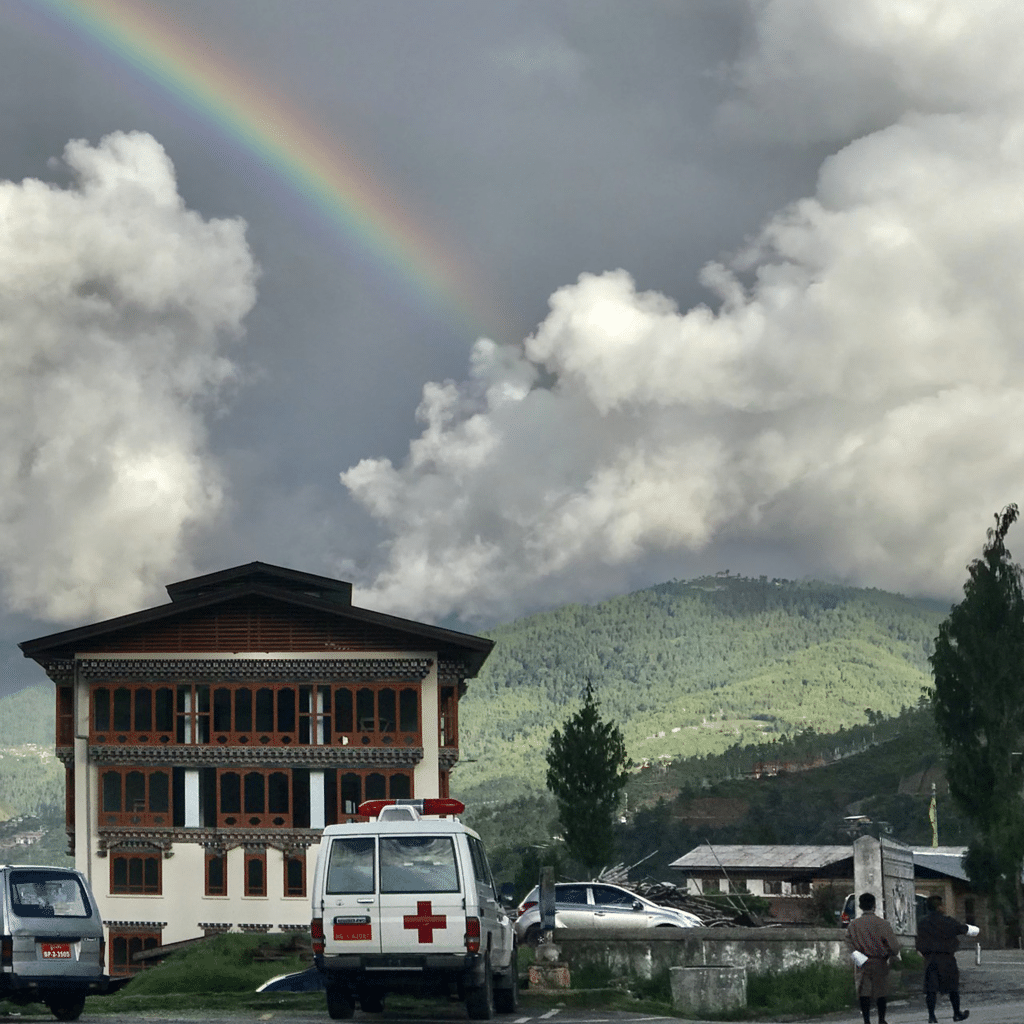 Comments are closed.