blog
Celebrating the Year of the Healthy Nurse During National Nurses Week
For nearly three decades, the American Nurses Association (ANA) has celebrated National Nurses Week from May 6-12. This six-day celebration culminates in International Nurse Day, which has been celebrated on Florence Nightingale's birthday, May 12, since 1965. 
HVO could not be more thrilled to take this opportunity to recognize the many dedicated nurses who volunteer to support our mission, as well as the nurses at our many project sites who are integral to the success of the local health workforce.
This year's theme, "Nursing: The Balance of Mind, Body, and Spirit," is part of the ANA's larger "Year of the Healthy Nurse" initiative, intended to help prevent compassion fatigue and burnout among members of the nursing profession. 
Volunteering in a resource-scarce setting may seem counter-intuitive as a method to reduce burnout, but many HVO volunteers report that their assignments – and the inspiration they draw from their overseas colleagues – enables them to approach their work at home with renewed passion and perspective. In 2015, 100 percent of volunteers at our nursing education project sites reported that their experience overseas enriched their commitment to global health and broadened their professional perspective. A majority of volunteers also reported their assignments strengthened their professional networks and enhanced their clinical confidence.
"You will learn as much from your 'students' as you teach them," wrote Wendy Noble, RN, MSN, ARNP after returning from an assignment in Phnom Penh, Cambodia in 2017.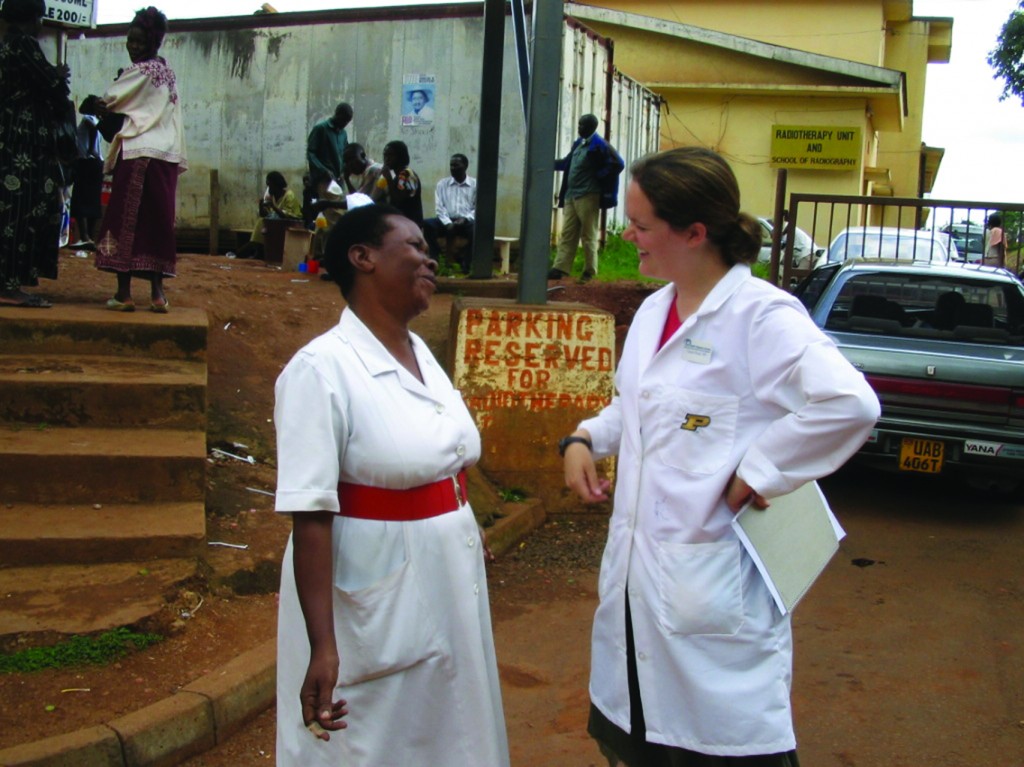 Our nursing education volunteers have also been told by their overseas colleagues that the opportunity to learn and develop new skills is a motivating force among local staff.
"I have been told that the volunteers boost their morale and give them hope so that they continue to work under these most challenging conditions," wrote Ann Carroll, BSN, NNP-BC, after returning from an assignment at HVO's nursing education project in Kampala, Uganda. 
"The nurses and head physician of the [Special Care Babies Unit] both commented that having us in the unit improves their morale, knowing that we care about them, that we understand their daily challenges… and that we are committed to their education and supporting them in providing quality care to their babies and their families with love and compassion," wrote Ellen Milan, RNC-NIC, a long-time volunteer to the same nursing education project site.
Volunteering abroad is an opportunity for nurses and other health care professionals to revisit the values that motivated them to enter the health care workforce, while simultaneously providing needed support to their colleagues in resource-scarce countries. HVO is committed to reducing burnout and compassion fatigue by helping nurses who wish to volunteer abroad.
In addition to facilitating overseas assignments, HVO offers the Plotnick Nursing Education Volunteer Fund to help defray the cost of eligible assignments. Consider contributing to support this fund in recognition of National Nurses Week and the Year of the Healthy Nurse.
HVO is proud to partner with the American Association of Colleges of Nursing and the Oncology Nursing Society to support nurses around the globe.
Comments are closed.