blog
Help Save the Lives of Moms and Babies in Haiti
Earlier this year, the United States Agency for International Development (USAID) released the fourth annual Acting on the Call report, evaluating the agency's progress toward its goal to end preventable child and maternal deaths. The report focuses on the need for strong and robust health systems to bolster efforts to save the lives of 15 million children and 600,000 mothers between 2012 and 2020.
As the authors of the report acknowledge, a health system is only as strong as the health workers at its core. "The availability of motivated, sufficiently compensated, effectively deployed, and capable personnel to manage services and provide skilled care is fundamental to the survival of childbearing women and their newborns," the authors state. The report highlights a need HVO has worked to address for more than three decades.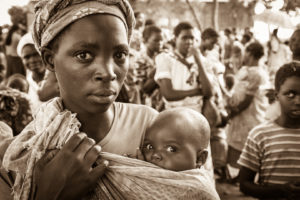 By empowering health workers through access to education, training and professional development opportunities HVO strengthens the health systems of the countries where we work. Our Ob-Gyn program, in particular, is focused on improving the quality and availability of care for mothers and their children. HVO is pleased to announce the expansion of this program to include a new Ob-Gyn training project at Hôpital Albert Schweitzer (HAS) in Deschappelles, Haiti.
HAS is a full-service hospital that specializes in caring for mothers, infants and children, but treats adult patients as well. HAS serves a population of more than 350,000 individuals living in rural Haiti, and is a point of referral for the more complex cases seen in regional clinics and other medical facilities in the surrounding area.
The mothers and children who receive care at HAS are the same individuals that USAID hopes to reach by strengthening health systems in countries such as Haiti, which has the highest prevalence of infant and under five mortality in the western hemisphere.
Although HVO's new Ob-Gyn training project is not affiliated with USAID, we share a common goal of empowering and supporting health workers in resource-scarce countries as they deliver life saving treatment to underserved mothers and children. HVO Ob-Gyn volunteers can aid in the pursuit of this goal by sharing their knowledge of obstetrics and gynecology with their counterparts at HAS.
Volunteers will provide clinical and didactic training to Ob-Gyn clinicians at HAS to increase staff knowledge and skills in vaginal surgery; improve communication between clinicians and pediatricians at the time of delivery; and improve the implementation of cesarean sections. Active, board certified obstetricians and gynecologists with at least four years experience will be recruited for assignments of 2-4 weeks in length. Interested providers can learn more about this and other Ob-Gyn volunteer opportunities on our Ob-Gyn program page.
HVO's Ob-Gyn projects are supported by the American College of Obstetricians and Gynecologists.
Not an obstetrician or gynecologist? Use our project finder to discover an HVO project in your specialty area or support this work with a gift to HVO!
Comments are closed.