blog
How to Connect with HVO on Do More 24
When you give to a local organization with an international mission, your gift is sure to have far-reaching impact. A Washington, DC resident who gives to HVO on Do More 24, for example, will help provide education and professional development opportunities to health workers in resource-scarce countries, who in turn will provide more and better care to communities around the globe – from Mbarara to Managua to Mongar.
But have you considered how contributions to international causes like the development of the global health workforce also benefit your local community? By building the capacity of health systems around the world to better respond to challenges such as the growing burden of noncommunicable diseases and the latest infectious disease outbreak, HVO and our supporters help increase health security and reduce both the economic and human burden of disease on a global scale.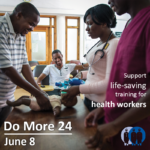 On Thursday, June 8, we are asking members of the HVO community who reside in and around DC to support our global mission at the local level through targeted online giving during United Way of the National Capital Area's Do More 24 event. Visit our Do More 24 fundraising page between 12 am and 11:59 pm on that date to make your donation.
Both local and non-local friends of HVO are encouraged to join us on Twitter on Wednesday, June 7 from 1-2 pm ET for a chat on how local giving can change the world hosted by Global Impact (@charitydotorg). Use #1Day1World to follow and join this conversation.
You can also connect with HVO on social media throughout the day on June 8. After you make your donation let us know by tagging HVO on Facebook or Twitter and using #DoMore24. You can also snap a #selfieforgood and tag HVO to show your support. Do More 24 participants are encouraged to share their #selfies on Twitter from 12-3 pm ET, and on Facebook from 3-6 pm ET.
If you are based in DC, join HVO staff and other members of the Global Impact Charity Alliance for a happy hour hosted by Global Impact. Stop by Hawthorne at 1336 U Street, NW between 5-7 pm ET and show your donation receipt to receive a wristband for discounted drinks.
Whether you choose to give, tweet, #selfie, sip or all of the above, we look forward to connecting with you at a local level as we work to improve global health!
Comments are closed.