blog
HVO Welcomes the Oncology Nursing Society to Our Global Health Community
HVO is pleased to announce that the Oncology Nursing Society (ONS) has joined our global health community as the newest sponsor of our oncology program.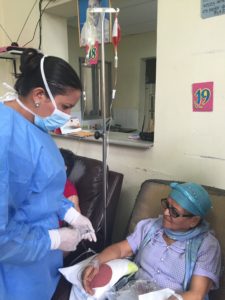 "Nurses are crucial members of the cancer care workforce, and the growing incidence of cancer in low- and middle-income countries demonstrates a critical need to support and expand this workforce. ONS and its members will help provide essential education and professional opportunity to oncology nurses around the world," says HVO Executive Director Nancy Kelly, MHS.
For more than 40 years, ONS and its members have worked to improve the quality of life for individuals living with cancer and their families. By focusing on early detection and improved management of both cancer symptoms and the side effects of treatment, ONS endeavors to improve patient outcomes. By encouraging healthy lifestyle choices and other preventative interventions, ONS also seeks to reduce the burden of cancer. As a sponsor of HVO's oncology program, ONS will support both of these goals on a global scale.
We look forward to collaborating with ONS to expand the reach and global impact of our oncology program!
You can volunteer or support HVO's work in oncology and other specialty areas, or help us by spreading the word about this new partnership among your personal and professional network on Facebook and Twitter.
Comments are closed.