Notes From the Field…
Learn more about HVO's impact from our volunteers' reports: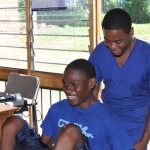 "This has been a very gratifying experience and has certainly increased my interest in global health. It has increased my interest in promoting physical therapy at the community level to encourage a rehabilitative mindset and I am interested in continuing clinical supervision and teaching."
-Amanda Heermans, PT ∙ Physical Therapy ∙ Malawi
"I also gave a PALS lecture to 70+ nurses because I was told that they were interested in pediatric resuscitation. The rest of the time I spent there was encouraging, supervising, and performing ultrasound guided peripheral nerve blocks. They are very skilled technically and just needed our reassurance and affirmation that they were performing these blocks correctly. At the end of two weeks, I saw them taking the initiative to use the ultrasound independently and hope this trend continues."
-Dr. Dean Laochamroonvorapongse, MD, MPH ∙ Anesthesia ∙ Vietnam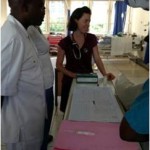 "Remember to be respectful, flexible and open-minded. We have as much to learn as we have to teach. When you are frustrated that things don't seem to be done in the manner you think correct, take a deep breath and try to understand the whole picture. Try to find out what your hosts need."
-Claudia Leonard, MD ∙ Internal Medicine ∙ Uganda
"I am encouraged to see the progress that is being made at the Velez Paiz Hospital regarding the therapists' skills in providing hand therapy and splinting to the children, as well as the improved communication between the therapists and the surgeons so that they are working together as a team rather than in isolation. For example, the first time that I participated, there were no therapists from Velez Paiz present at the initial hand clinic with the doctors, where the children are evaluated for surgery. During my second trip, the director of the physiotherapy department was present, and this trip, there was a therapist from Velez Paiz present in each of the evaluation rooms of the hand clinic. I believe this change is directly a result of the team approach modeled by the HVO physicians and therapists."
-Mary Ellen Brown, MS, OTR/L ∙ Hand therapy ∙ Nicaragua
Read volunteer impact stories on the HVO Blog.