Webinars
Interested in learning more about the breadth of issues in global health care? HVO has initiated a series of webinars focused on a variety of issues in global health – from new WHO initiatives, to innovative educational projects spearheaded by volunteers in these challenging times. The sessions run an hour in length, so they can be viewed during a lunch break. However, since we know that people have full schedules these days, we are also recording these sessions and will be posting them on the HVO YouTube channel.
We urge you to come back to this page and follow us on social media to learn more about upcoming webinars and to see what you might have missed.
Most recent session: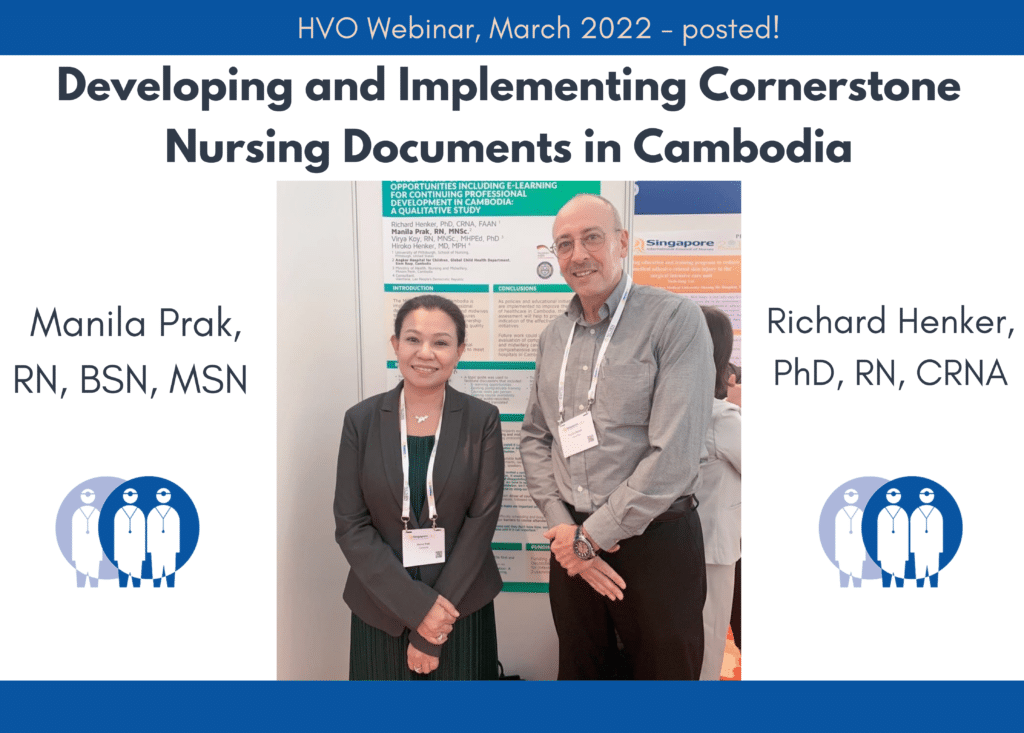 Manila Prak works with the USAID-Enhancing Quality of Healthcare Activity project, through FHI 360 Cambodia, where she is the Team Leader of Healthcare Regulation and Accreditation. FHI 360's work in Cambodia focuses on human development goals with the most at-risk populations. Their health projects cover a wide spectrum of health needs from AIDS to malaria, and family planning to substance use. She also works on a volunteer basis as President of the Cambodian Association of Nurses which is actively involved as a co-facilitator for the ICN Leadership for Change Program for Cambodian Nurses.
Richard Henker is on faculty at the University of Pittsburgh School of Nursing and a practicing nurse anesthetist at UPMC-Presbyterian Hospital. A member of HVO since 2004, he currently serves on the Board of Directors, and has been on the Steering Committee for nurse anesthesia, as well as a project director. He received the Golden Apple Award for his work with Cambodia.
In 2014, Ms. Prak and Dr. Henker were key initiative members of the Technical Working Group of nurses in Cambodia that developed a core of guiding standards for nursing practice in Cambodia, which were then approved by the Ministry of Health and disseminated throughout the country. Join us for a discussion on how the process started, the challenges they encountered, and the impact the guidelines have made. They will share their thoughts on lessons learned and how this process might be applied in other countries, and will leave time for your questions.
Past sessions: