blog
Professional Collaboration: Renewing Energy, Commitment & Enthusiasm
Editor's Note: The American Physical Therapy Association (APTA)'s Combined Sections Meeting (CSM 2017) was hosted in San Antonio in February. The event brought together "over 11,000 of the brightest and most innovative professionals for the BIGGEST conference on physical therapy in the country". Thanks to the generosity of our sponsor, APTA, HVO staff were present to share HVO's mission with CSM attendees. HVO Communications Manager Katie McMullen shares her experience in the post below.
Earlier this month, I headed to CSM 2017, where I planned to meet some members of HVO's physical therapy community and speak to prospective first-time volunteers in the CSM exhibit hall. I was prepared to meet enthusiastic, committed physical therapy professionals, and I was not disappointed.
There was a palpable energy at CSM 2017. One attendee even described the gathering as "transformative," and I am inclined to agree. Over the course of the weekend, I met numerous physical therapy professionals and students eager to learn from their colleagues and to work collaboratively to improve the practice of physical therapy around the globe. The meeting was yet another example of the power of health care professionals coming together to share their passion for improving the quality and accessibility of care. Many attendees, including me, left the meeting with a renewed sense of purpose and enthusiasm.
As CSM 2017 demonstrated, professional collaboration is a powerful tool for improving patient care. It is also an essential element of HVO's mission to improve global health. As Executive Director Nancy Kelly recently wrote, "…international collaboration is necessary not only to achieve health equity, but also to achieve progress towards the goals shared by all in the global health community. By working together, we can better plan for and address both new threats and existing burdens in the global health sector."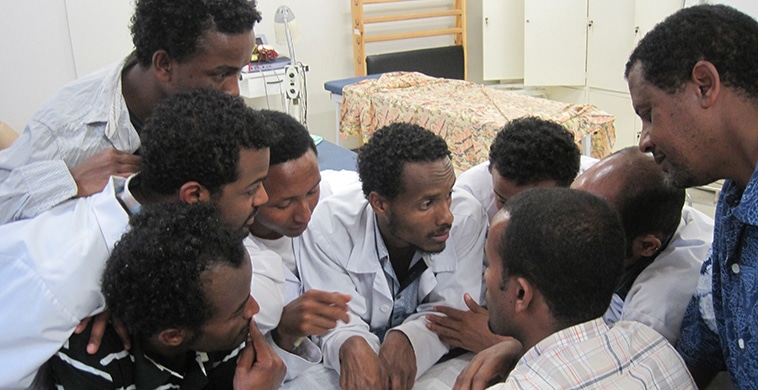 We know that health care professionals find value in the exchange of information. Exchanges like those I witnessed at CMS – and those our volunteers and overseas partners report experiencing at HVO project sites – lead to professional and personal growth and renewal. This ultimately leads to better patient care.
The powerful impact of colleagues coming together is also the motivation behind HVO's upcoming 30thAnniversary Symposium. On Friday, April 28th, members of our global health community will gather in Washington, DC to discuss HVO's impact and achievements over the last 30 years and to plan for the future, launching the organization into the next 30 years of teaching, training and professional collaboration with renewed energy, commitment and enthusiasm.
If the CSM meeting I attended is any indication, HVO's 30th Anniversary Symposium will be inspirational and motivational. I hope you will join us in Washington, DC as we come together to transform care – and lives – through education and training of the global health workforce!
Comments are closed.