blog
Quality Counts: Leading the Way in Redefining 'Care'
Access to care is not enough.
This is the argument made by the authors of an editorial published in the June 2017 issue of the Bulletin of the World Health Organization. Increased access to care is not sufficient to ensure improved health outcomes or a reduction in the burden of disease in low- and middle-income countries. Quality of care matters and has an impact on efficacy regardless of whether that care is delivered in a low- or high-resource setting.
Globally, the average life expectancy has been rising steadily—increasing by five years between 2000 and 2015. As more and more individuals live into their 70s and beyond, the demand for long-term care to treat complex and chronic conditions has also increased. In low-resource settings, health systems accustomed to delivering acute care must shift to provide ongoing treatment and symptom management to patients living with noncommunicable diseases such as diabetes and various types of cancer.
In the face of this changing global health environment "measuring access is not sufficient to capture whether people receive effective care," the authors of the editorial contend. They cite a study conducted in Malawi that found improvements in equipment and supplies at health care facilities did not significantly impact providers' clinical performance. Another study comparing seven African nations concluded that differences in quality of care between nations result in part from differences in how providers are trained.
HVO volunteers, leaders and partners have long championed the notion that education is at the root of quality care and that supplies and equipment alone cannot replicate the impact of a skilled and dedicated health worker. These notions hold true now more than ever as a growing need for long-term care and symptom management has brought the patient experience and patient-provider relationships to the fore.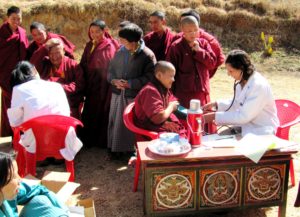 By supporting health workers through access to education and professional development opportunities, our volunteers empower those health workers to better support their patients. That may mean offering patients a new treatment option or simply better explaining the effects and likely outcome of existing modalities.
As the global health community collectively shifts its focus toward measuring and evaluating the quality of care in resource-scarce settings, we look forward to continuing and expanding our own work in this realm—empowering health workers and strengthening health systems to ensure that not only more, but better care is available to patients around the globe.
Comments are closed.