blog
Reducing Global Infant Mortality through Nursing Education
This past July at the Saving Lives at Birth DevelopmentXChange event in Washington, DC, HVO staff had the opportunity to view exciting new technologies designed to save the lives of mothers and their children. The technologies on display included several innovative solutions developed by HVO partner organizations. Although promising, such technologies can only be effective if paired with a robust and skilled health workforce. HVO remains dedicated to building the capacity of the local health workforce in resource-scarce countries because without this workforce, global health goals – such as the US Agency for International Development's goal to save the lives of 15 million children and 600,000 mothers by 2020 – are unattainable.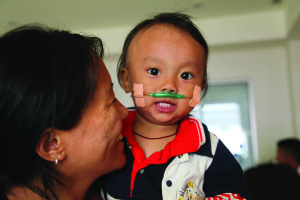 HVO executive director Nancy Kelly, MHS, reiterated this point in a recent article published by the global health organization IntraHealth. Kelly drew on examples from HVO's nursing education project at Mulago Hospital in Kampala, Uganda, where volunteers support nursing staff working in the Special Care Babies Unit, to emphasize the critical role that health workers play in improving maternal and child health outcomes. 
Our newest project to support and promote nursing education at HVO partner institution Lao Friends Hospital for Children (LFHC) will also aid in global efforts to reduce infant mortality by empowering the health workers who care for mothers and their children. The project will improve the quality of neonatal nursing care at LFHC by providing senior-level nursing staff with the training and resources needed to become expert teachers, training their colleagues in areas including lactation, nasogastric tube feeding, early newborn care, resuscitation, seizures, jaundice and malnutrition. Volunteers with a master's degree in nursing and at least two years of neonatal and teaching experience will be recruited for assignments of one month or longer.
Learn more about this and other nursing education projects on our nursing education program page. HVO's nursing education program is supported by the American Association of Colleges of Nursing.
HVO offers a number of funding opportunities and resources to our nursing education volunteers to help defray the costs of their assignments. Learn more on our website. Help support our nursing education volunteers through a gift to the Plotnick Nursing Education Volunteer Fund.
Not a nurse educator? Find the HVO project that is just right for you using our Project Finder!
Comments are closed.