blog
Support Health Equity on International Women's Day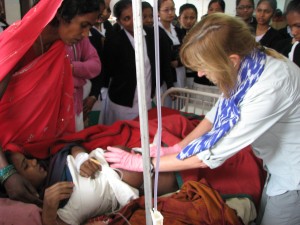 International Women's Day is an opportunity both to celebrate progress, and to advocate for change. The International Women's Day 2016 Pledge for Parity campaign urges supporters to choose at least one way in which they will support global gender equity.
HVO supports women around the globe through its mission to improve the quality and accessibility of health care in resource-scarce countries through the education and training of the local health workforce. Women living in developing nations often face increased health risks and unique barriers to care. In fact, the World Health Organization (WHO) reports that 99 percent of the approximate 287,000 maternal deaths every year occur in developing countries. HVO internal medicine volunteer Dr. Laurie Goldstein experienced one such barrier to care first-hand while volunteering in Cambodia:
The day I went out with the mobile team, I went with two other female health workers to observe, although I did offer to see any female patients that had any breast or obstetrical or gynecologic complaints…

When a woman came in saying she was still bleeding after a miscarriage one week prior, it became obvious that there was no place, nor any equipment with which to examine women.   The mobile clinics essentially check for BP, blood sugar, and give out meds. I offered to check her in her home, if she wanted, so the three of us (one was a native speaker) and the patient went to her home, and she put out a straw mat and pillow on the floor, and I did the exam there. Then her neighbor asked for an exam, and they told me that if we could stay for the day, all the women in the village would probably want to be examined."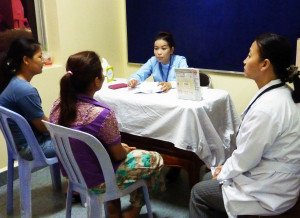 Lack of access to care is a serious threat to the health of women in developing countries. According to the WHO, 90 percent of cervical cancer deaths occur in low and middle-income countries. This is a result of poor access to screening and treatment services. HVO has worked with its partner institution Sihanouk Hospital Center of HOPE in Phnom Penh, Cambodia, to develop a cervical cancer screening and treatment program in the hospital's women's health clinic. With the support of organizations such as our sponsor, the Society of Gynecologic Oncology, HVO hopes to expand access to care for women at other project sites around the globe.
After making your Pledge for Parity on International Women's Day, we urge you to take action to support global health equity for women by donating or volunteering with HVO.
Comments are closed.