blog
Working Together to Support the Global Health Workforce
This week, we have honored the health workers at the heart of HVO's mission on Facebook, Twitter, Instagram, and other social media channels in celebration of World Health Worker Week. Our dedicated volunteers and overseas partners are integral to our efforts to transform lives and improve global health.
When we considered the question of why health workers count, we came up with too many answers to list. Members of our global health community regularly send us inspiring stories of how their colleagues in the global health workforce provide support not only to their patients, but to their fellow health workers and the communities they serve.
Each year, we strive to honor HVO community members who have gone above and beyond in their support of our organization and its mission through our Golden Apple Awards. The 2017 Golden Apple Award honorees were announced today. Just as in years past, these individuals exemplify the power of working together. Through international collaboration, our volunteers and overseas partners are able to have tremendous impact both at the hospitals and universities and within the countries where they work.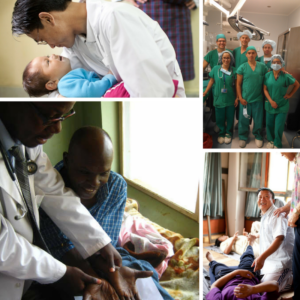 Health workers count, and each health worker adds to the count of a global health workforce that will face unprecedented challenges in coming years as the global health workforce shortage is predicted to more than double, reaching 18 million by the year 2030. No single organization can address the multifaceted needs of the global health workforce, but by working together, we can provide health workers with the support and resources that they need to keep patients and communities healthy around the globe.
If you are interested in learning how you can support the global health workforce, consider joining us in Washington, D.C. on April 28 for our 30th Anniversary Symposium. This event will bring together members of the HVO community – including leaders, volunteers, and overseas partners – to reflect on past achievements and collaborate to plan for the future. It will also provide an opportunity for us to continue to honor the amazing work of all the health workers around the world who support and promote HVO's mission!
If you cannot make it to D.C. this month, consider donating to our Grow 30 More Fund to support our ongoing mission to provide education and professional development opportunities to health workers in resource-scarce countries.
Though World Health Worker Week ends tomorrow, we will continue to support the amazing individuals who dedicate their resources, time and talent to serve their patients, colleagues and communities. To health workers around the world – thank you!
Comments are closed.