blog
The Pivotal Role of Partnership: How Relationships Improve Global Health
"I think developing professional relationships with international colleagues – teaching together and exchanging ideas provides not only personal satisfaction, but the opportunity to build pediatric capacity together," commented HVO pediatrics committee member and volunteer, Cynthia Howard, MD, MPH, FAAP in a recent interview.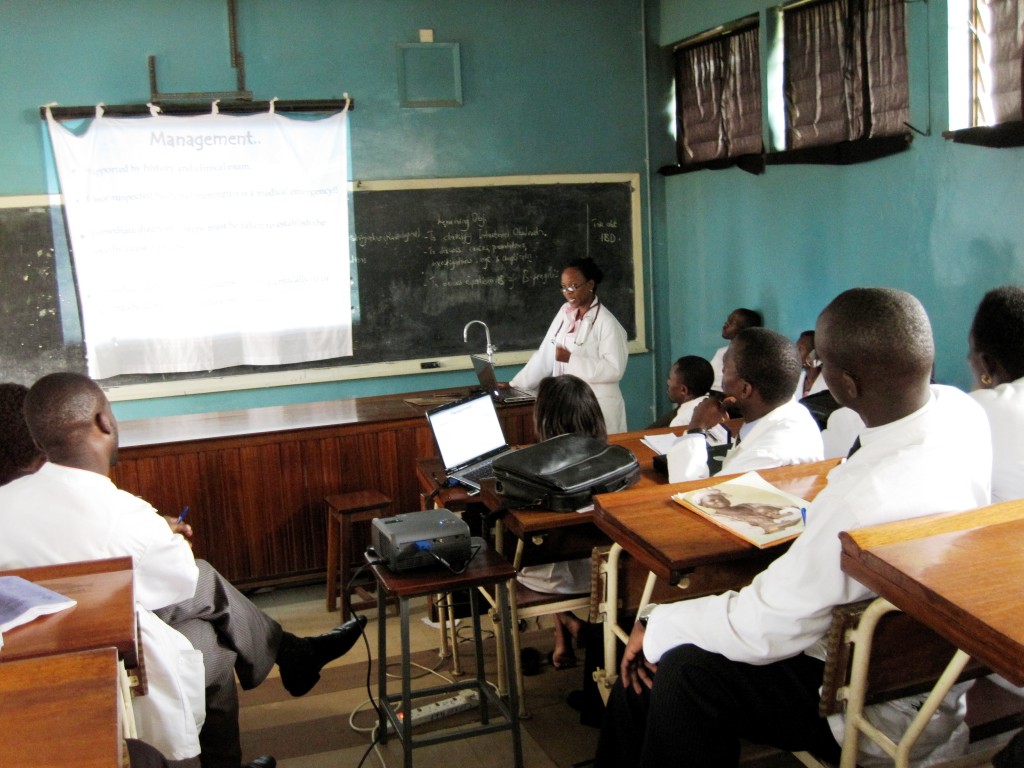 Indeed, at each HVO project site – in every program area and every country where we work – people coming together leads to improvements in care. HVO facilitates partnerships between institutions, local providers, volunteers and sponsor organizations, connecting people with one another and with the resources necessary to bring education and training to health workers in low- and middle-income countries.
But how do these partnerships – and the relationships at their foundation – lead to improved care?
In Uganda, where Dr. Howard has volunteered on more than a dozen assignments, relationships have led to tangible improvements in patient care, bringing new tools and knowledge to address patient needs previously unmet due to limited access to information and resources.
"The greatest impact for all of us is the professional network we have developed together," shared Dr. Howard. She noted that this network of HVO volunteers and Ugandan colleagues and partners have worked together on a number of advancements, including neonatology education; establishment of an Adolescent Clinic; implementation of a screen for G6PD deficiency; and the development of a diabetes clinic.
These type of developments arise from an exchange of knowledge. Local health providers identify challenges they face in diagnosing and treating patients, teaching HVO volunteers about these challenges and what resources there are to address them. HVO volunteers, in turn, bring knowledge from their practice and previous volunteer work, collaborating with local staff to tackle the problems at hand.
"We work together continually," added Dr. Howard.
Another volunteer who traveled to Mulago Hospital with HVO's internal medicine project, Rebecca Kruisselbrink, MD noted the importance of the exchange of information following one of her many visits to the site:
I had the privilege to meet and develop strong working relationships with residents and faculty at Mulago Hospital who are similarly interested in building critical care capacity in low-income African countries. We continue to work together and have ongoing electronic communication. Sharing ideas and educational resources, and partnering in research and quality improvement projects has made this collaboration very productive.
Bringing together health care professionals to work side-by-side and share their knowledge and skills is what builds and strengthens health systems around the world. The impact of an individual health worker is magnified when they operate as part of a team dedicated to delivering high quality patient care. Likewise, HVO's organizational impact is magnified through partnership. HVO brings people together to build professional relationships and reinforce partnerships that lead to more and better care for patients around the world.
We look forward to cultivating the collaborative spirit at the heart of the HVO mission, and the many relationships that are critical to our success in 2018 and beyond.
Comments are closed.