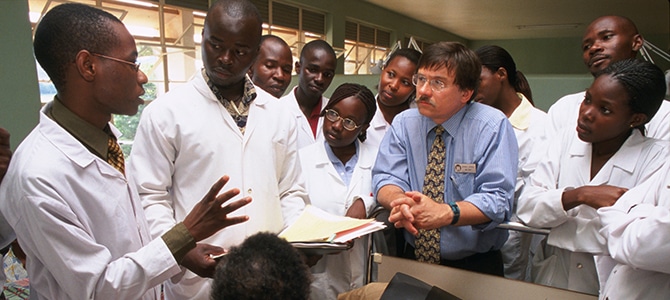 MISSION, VISION, AND VALUES
---
Mission Statement
Health Volunteers Overseas improves the availability and quality of health care through the education, training, and professional development of the health workforce in resource-scarce countries.
Vision
HVO envisions a world where all people have access to high quality health care delivered by local health professionals.
Values
Innovation – We implement innovative, effective programs that meet the needs of host country institutions, are sustainable, and build local capacity.
Excellence – We deliver transformative education projects that promote lifelong learning and professional development opportunities.
Partnership – We work in partnership with other organizations, host governments and institutions, and local health care professionals in a cooperative spirit of mutual respect, equity, and integrity.
Stewardship – We deeply value our members, donors, and volunteers, and we are committed to strong stewardship of these vital relationships.
Guiding Principles
HVO projects are staffed by highly qualified health care professionals who demonstrate the highest standards of professional and personal conduct. Sensitivity and respect for the cultural and social beliefs and practices of the host country should guide professional and personal behavior.
Projects vary according to the needs of the countries and the educational priorities identified. However, there are certain principles that apply across all projects:
Training will focus on local diseases and health conditions, as well as available resources and technologies.
Practices, procedures, and skills taught will be both relevant and realistic, and should include, when appropriate, a focus on prevention.
Projects will promote lifelong learning.
Whenever possible, projects will focus on training local personnel who will assume the roles of both educator and provider.
November 2018