Developing a Fulbright assignment with HVO took a while but, ultimately, the timing of the experience could not have been better. Sihanouk Hospital Center of HOPE, in Cambodia's capital of Phnom Penh, had an unused ventilator that had been on-site for a few years. Staff had been eager to learn how to use it, but were hesitant to try practicing with it. Dr. Lisa Trujillo, a respiratory therapist, an associate professor, and the program director at the University of Kansas Medical Center, Department of Respiratory Care and Diagnostic Science, has been teaching mechanical ventilation for over fifteen years and was eager to share her experience with colleagues abroad. In late December 2019 she traveled to Cambodia, as a Fulbright scholar working with HVO, to provide education and training to the nursing and physician staff to improve respiratory care at the hospital.
Her first few weeks in Cambodia were spent getting to know the staff and gaining a better understanding of their patients' needs under the direction of Dr. Kruy Lim, medical director at SHCH.  During this time, she had the opportunity to teach several sessions to nursing staff on therapies they could employ to care for their patients ill with respiratory diseases. She also spent time familiarizing herself with the workings of the lone ventilator, since each kind operates in a slightly different manner. She spent much of her time working with Dr. Long, taking a "train the trainer" approach so that someone at the site would have the expertise. After returning home, Dr. Trujillo created an online course on the "Canvas" platform. Over the next 4-5 weeks, she posted PowerPoint presentations, with voice-overs, to walk the physicians through such topics as chest physiotherapy and postural drainage, COPD and the safe use of oxygen, CPAP/BiPAP, and mechanical ventilation.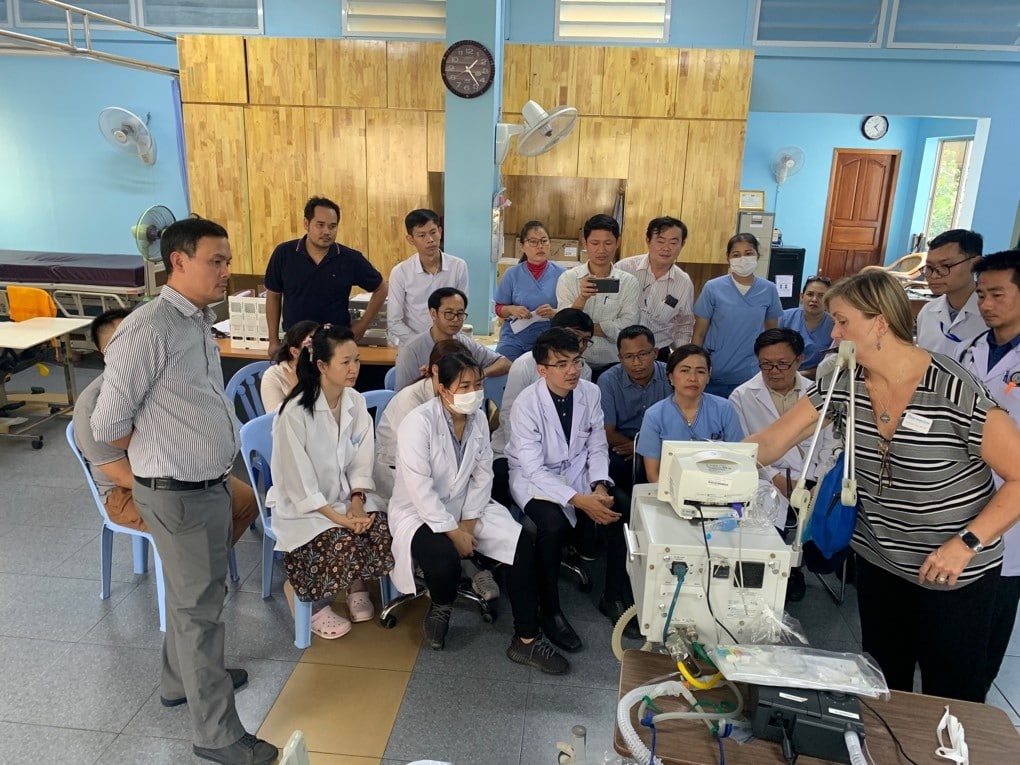 When Dr. Trujillo returned to Cambodia in late February this year, the coronavirus COVID-19 was a rapidly evolving global health emergency. For this second visit, she returned with four suitcases filled with donated equipment – large-volume nebulizers (which humidify the airway and allow patients to more easily cough up secretions), inhalers and spacers (to ensure that adequate amounts of the medicine reach the lungs), and CPAP/BiPAP machines (that support patients in respiratory distress). All of these non-invasive machines provide a proactive approach to caring for patients with respiratory problems, as do the techniques she taught in respiratory medication delivery, secretion removal, patient positioning, and percussion.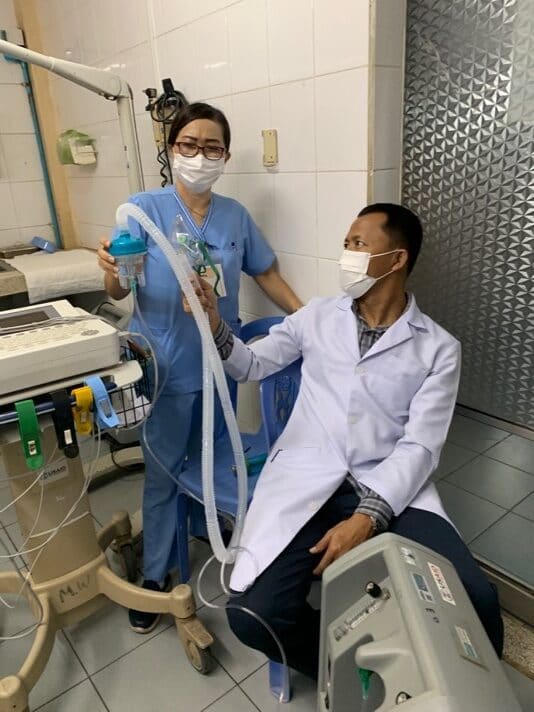 With COVID-19 spreading in the world, this second visit took on a particular urgency, with a focused attention on postural drainage, the use of non-invasive equipment, and the proper use of mechanical ventilation. Dr. Long took the lead in training the staff, with Dr. Trujillo monitoring and supporting his demonstrations.
Dr. Trujillo was impressed with the commitment to safety that was shown at the hospital.  Temperatures were checked on all people entering the hospital and physicians and nurses were in full PPE.  Although the hospital had only two face-shield type masks, the staff had taken the initiative to make face-shield masks themselves.
With the threat of COVID-19 constantly in the news, much of Dr. Trujillo's visit addressed working on mechanical ventilation, C02 monitoring, airway clearance and endotracheal suctioning of intubated patients. While these are all skills that are important for respiratory issues in general, they will be particularly important if COVID-19 patients are treated at the hospital.
The two weeks of intensive training were memorable for Dr. Trujillo, in the way she saw the hospital team interact and support each other with respect and kindness. They, in turn, were grateful for the skills and information that they learned, all of which came at a particularly crucial point in time as they prepared for COVID-19's arrival.
Dr. Trujillo and the team at Sihanouk Hospital Center of HOPE look forward to the time when they can share another learning experience together. In the meantime, the team feels better prepared to meet the challenges ahead.
Read more on about the important role of respiratory therapists in treating COVID-19 patients in this recent article from CNN.