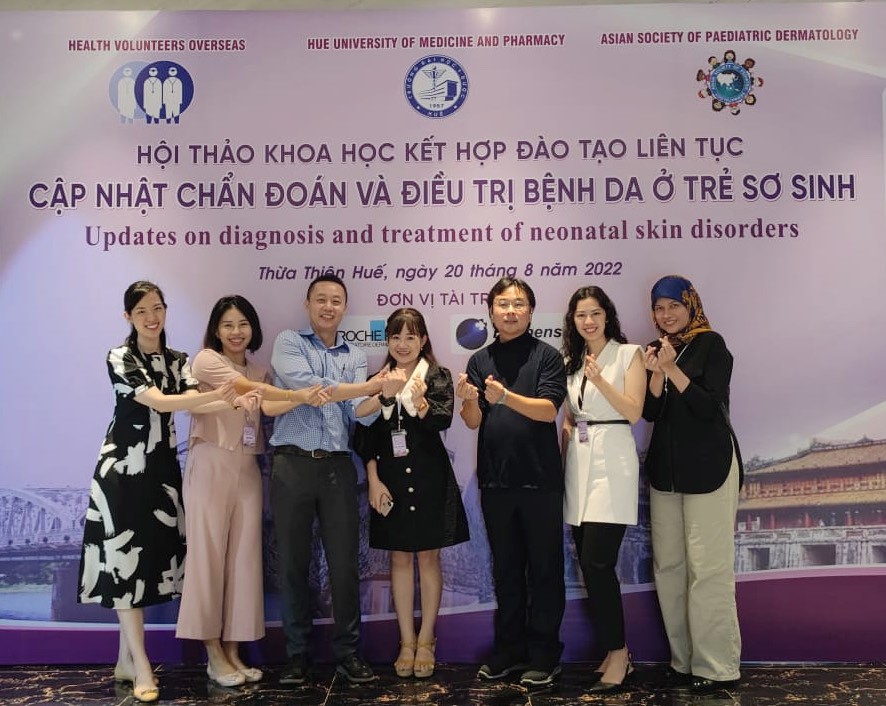 In 2015, Dr. Phuong Thi Thanh Nguyen was awarded The Wyss Scholarship for Future Leaders in Global Health and traveled from Hue, Vietnam to New York City to study dermatopathology for six weeks at Columbia University Medical Center. The experience, which allowed her to learn new skills and make important connections, was one step on her journey to improve her knowledge of pathology and expand her education.
Now, Dr. Nguyen works in the department of Dermatology at Hue University of Medicine and Pharmacy and serves as the on-site coordinator for HVO's dermatology project there. In the seven years since her time as a Wyss Scholar, Dr. Nguyen has obtained a Master's of Dermatology in Ho Chi Minh City and has taken part in several workshops organized by physicians in Japan. Currently, she participates in a weekly video conference for dermatologists and dermatopathologists in the United States and six hospitals in Vietnam to discuss difficult cases and to provide support and advice related to skin pathology. This program, in partnership with the University of South Alabama College of Medicine and organized by Dr. Thuy Phung, has been running for six years and Dr. Nguyen was one of the first clinicians to join.
Dr. Nguyen was drawn to this initiative because education is one of her top priorities. She believes that being a doctor and being an educator go hand in hand and strives to be both. For that reason, she is happy to be connected with HVO: "HVO has the purpose to transfer knowledge, and change medical issues through education. That is very beneficial in the country not for the short term, but long term. [HVO] volunteers are very enthusiastic with sharing knowledge and teach us a lot—not just knowledge but how to connect with the patients."
Her goal is to study more, become stronger in skin pathology and dermatology in general, and be able to teach dermatopathology skills to her colleagues. At the moment, she is the only dermatologist in her department who has the ability to read slides, a skill she learned through her experience as a Wyss Scholar at Columbia. She hopes to one day be able to teach slide reading to others.
Most recently, Dr. Nguyen invited HVO volunteer Dr. Mark Koh Jean Aan to teach a workshop in Hue on skin diseases for neonates to medical professionals in the fields of dermatology, pediatrics, and family medicine. Over 1200 medical professionals attended both in-person and virtually. This collaboration led Dr. Koh to extend an invitation to his own department's online workshop on eczema, and Dr. Nguyen was able to pass this opportunity on to her extensive network across Vietnam. For the future, Dr. Nguyen plans to organize online continuing medical education courses on COVID-19 and pediatric dermatology for physicians practicing not just in her hospital, but around the country. She hopes that HVO volunteers will be willing to attend and provide lectures.