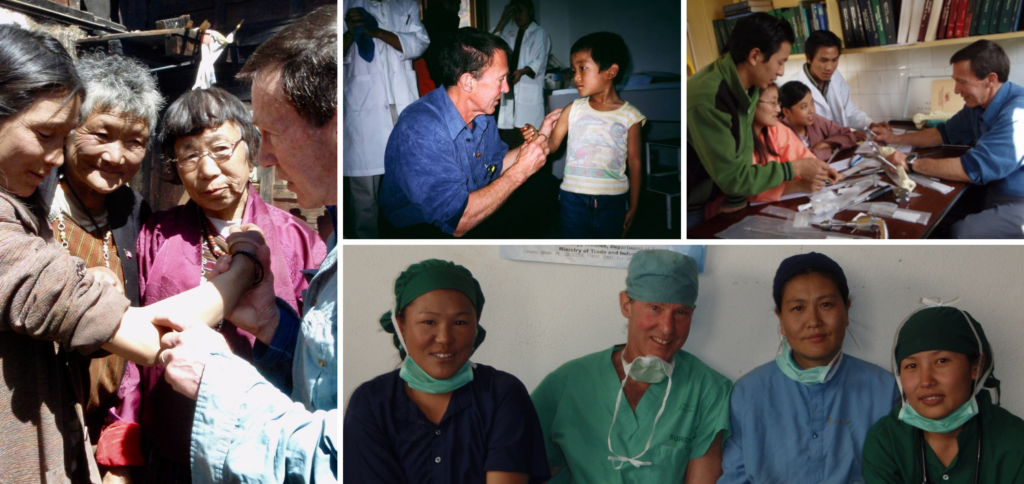 Dr. Sam Baker came to Bhutan out of a desire to volunteer in a rural, resource-scarce country and stayed because of his love and respect for the country and people. He has now been volunteering annually in Bhutan with HVO's orthopaedic project for fourteen years, which has allowed him a unique perspective on the progress and changes the orthopaedics department has undergone in that time. When Dr. Baker made his first visit in 2005, there was only one orthopaedic surgeon practicing in the entire country, and, until recently, there was no formal training program available. Today, Bhutan has eleven fully trained orthopaedists and a thriving residency program at Jigme Dorji Wangchuck National Referral Hospital in the capital city of Thimphu.
Because of the pandemic, Dr. Baker has been unable to make the long trip to Bhutan in recent years. However, this has not stopped him from remaining involved with the program. HVO has maintained a robust virtual presence with partner hospitals all over the world, and has worked with the National Referral Hospital to continue connecting HVO volunteers with students in online classrooms. For the last two years, Dr. Baker has provided guidance from a distance, though he is quick to note that he and his colleagues "have a fine exchange of ideas and learn a lot from each other. It's a two-way street."
Over the years, Dr. Baker has seen many welcome changes including access to better surgical and diagnostic equipment (such as a new MRI and CT), the creation of the Bhutan Emergency Aeromedical Retrieval (medical evacuations via helicopter with a full emergency medical team), and a fully-trained prosthetist who is able to make and provide modern prostheses. One of the most important changes to care is one Dr. Baker himself helped to bring: the introduction of SIGN, a surgical technique that allows physicians to fix fractures without the need for x-ray during the procedure. Dr. Baker, along with fellow HVO volunteer Dr. Robert Yancey, donated the necessary equipment in 2006. He then traveled to Bhutan and taught local orthopaedists how to use it. Seeing its success, his wife and he then donated SIGN equipment to a second Bhutanese hospital.
Dr. Baker intends to continue his work in Bhutan. He believes strongly in using his time to support fellow physicians around the world, and hopes that his colleagues in the United States will consider sharing their expertise as well: "I think one's orthopaedic career is not complete unless he or she does some volunteer work in resource-limited countries."
Thank you, Dr. Baker, for your many years of service!