Earlier this month, we highlighted two important traits of successful volunteers – flexibility and openness. We discussed how HVO volunteers succeed by keeping their minds open and adjusting to unforeseen circumstances; we shared first-hand accounts that highlighted the importance of these traits.
In the following post, we delve into the two other essential volunteer traits – patience and innovation – and highlight how these characteristics have led to past HVO volunteer successes.
Patience.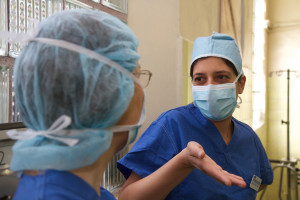 Like flexibility, patience is a necessary characteristic when reality differs from expectation. Even when a volunteer understands that cultural attitudes may differ from what they experience at home, they may find circumstances and attitudes frustrate them and their volunteer efforts. It is important, then, for volunteers to take the long-term view and recognize that change is sometimes slow to come. By demonstrating patience in challenging situations and with differing cultural attitudes, a volunteer will better facilitate personal relationships, and, ultimately, improve how local health workers and students receive their lessons and advice. Maintaining a cheerful, positive demeanor and persistently serving as a role model will effect sustainable change over time. Experienced volunteers have witnessed the importance of patience:
 I believe the success is not immediate, but in time there will be a person, a situation, or a treatment that will make a difference; there will be that individual that 2 or 3 years later will take the ball (information, skill, knowledge) that you have been trying to give them. Like a light bulb turning on! Such a nice feeling to have someone report to you that you were able to make a difference eventually."
-HVO Volunteer to Bhutan
On a first trip it is probably best to observe as much as possible to try to understand the framework within which the local health system works, with all its vagaries and inefficiencies. Patience and honest attempts to understand will be appreciated."
-HVO Volunteer to Tanzania
We are not here to take over or change, instead we are here to teach and be taught about how things are done differently in the rest of the world. Frustrations abound but are to be expected when placed into an environment that operates dissimilar to what we are used, as would be the case for them. Only by realizing this can we appreciate the need, purpose, and insight of this experience."
-Orthopaedics Overseas Traveling Fellow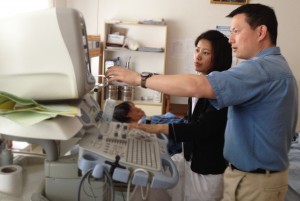 Innovation. Volunteers are likely to encounter new challenges. The limit on resources in many of the countries where HVO works can result in facilities without up-to-date equipment and may even lead to shortages in basic supplies. Volunteers must be ready to adjust to what facilities and resources are available and focus on skills and information that are of use in the circumstances that exist. For example, functioning in a situation where lab tests and x-rays are unavailable means enhancing diagnostic skills and focusing on patient histories and exams.
For many professionals, the experience, although initially disconcerting, allows them to develop as a professional and an educator and often reminds them of what originally drew them to health care:
[The experience] has definitely taught me new techniques and ways to do things clinically that I wouldn't have thought of otherwise. It has also shown me the capabilities of health care providers and patients when they don't have access to the technology or support we typically have at home."
-HVO Volunteer to Nicaragua
I cannot emphasize enough how great this experience was for my professional development. I gained a lot of confidence in my diagnostic and surgical skills as well as my teaching skills. Further, although some aspects of working outside of my "university bubble" were frustrating … I do believe that some of my tips and tricks made small changes to the department."
-HVO Volunteer to Bhutan
This experience has helped in my development as a professional. I feel forcing oneself to adapt to new environments and the new challenges is a daunting task but ultimately results in self-improvement. It is humbling yet empowering to see health care providers do so much in a converted track stadium. My first few patients had [chikungunya] and the local therapists provided a lot of insight into these cases that really influenced their management. In these cases, it is great to see how the exchange of ideas in both directions can make an impact. This was my first volunteer experience abroad, and I am already looking forward to the next opportunity."
-HVO Volunteer to St. Lucia
If you'd like to learn more about effective volunteer, review HVO's article on Highly Effective Volunteers.  To begin the volunteer placement process, complete our volunteer application.