blog
From the Field: Empowering Physical Therapists in Bhutan
In October 2016, HVO volunteer and leader Linda Wolff, MPT shared her experience helping to deliver the World Health Organization's Wheelchair Service Provision Training program in Thimphu, Bhutan with HVO blog readers.
Ms. Wolff collaborated with an international team of physical therapy volunteers—including providers from the U.S., Argentina, Canada, and the U.K., as well as two Bhutanese physiotherapists—to facilitate a five-day basic training course, along with a two-day management course and a one-day stakeholders meeting. The team is currently back in Bhutan delivering the WHO's Intermediate Level training program, which teaches participants to build seating systems from locally available materials.
Prior to leaving for her most recent assignment, Ms. Wolff was in touch with members of the HVO staff regarding plans for the training, and other recent volunteer activities at HVO's physical therapy project at Jigme Dorji Wangchuck National Referral Hospital (JDWNRH) in Thimphu, Bhutan. Because of the tremendous interest generated by Ms. Wolff's previous post, we wanted to share some of the highlights from her most recent report.
"… our recent physio volunteer, Elizabeth Braga, has done a most excellent job at helping to build up and strengthen the Women's Health Unit at JDWNRH. I am so impressed with all she has done in 2 months and would like to continue to recruit in this area as it is a big area of need and was so well received."
"I have attached a few of the pictures she sent me as they are worth a thousand words."
"The last picture is of Elizabeth with Padma and Kinzang, physio staff and Satomi, a Japanese volunteer health care worker. They are holding a painting (thangkha) of the four harmonious friends (Thuenpa Punshi) … The fable underlines the virtue of cooperation, and the connections and interdependence between all creatures great and small, and all the elements, in nature's cycle."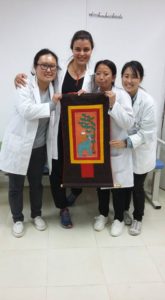 Stay tuned – we will continue to share updates regarding our physical therapy project in Bhutan, including a report on the Intermediate Level Wheelchair Service Provision Training currently underway.
Have photos or reflections from your global volunteer experience that you would like to see featured on the HVO blog? Reach out to us – we would love to hear from you! You can send stories and images from your recent assignment to HVO's communications coordinator for consideration.