blog
Orthopaedics Overseas: A Trainee's Perspective
Why volunteer? Hear from a trainee at our annual Orthopaedics Overseas Luncheon.
If you are attending the AAOS 2016 Annual Meeting in Orlando this year, join us for an afternoon dedicated to global orthopaedic health care!
On Friday, March 4th from noon to 2 pm, HVO will host  its annual Orthopaedics Overseas (OO) Luncheon at Rosen Plaza Hotel, connected via sky-bridge to the Orlando Convention Center. The OO Luncheon provides a unique opportunity to meet the leadership, staff and former volunteers of HVO. This year, you will also have the opportunity to meet our special guest speaker, Dr. Isaac Kajja – a former HVO trainee and current on-site coordinator for HVO's orthopaedics project in Uganda.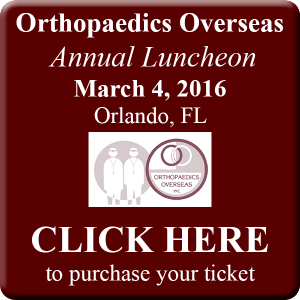 Dr. Kajja trained at Makerere University for both his undergraduate and postgraduate degrees, and completed his training at the University of Pretoria in South Africa and the University of Assiut in Egypt. He also completed his PhD at the University of Groningen in the Netherlands.
Dr. Kajja first learned of HVO when he enrolled in postgraduate training at Makerere University in 1998. In a previous post about his history with HVO, Dr. Kajja described the influence HVO and its volunteers have had on his professional development and career trajectory:
The HVO teams with which I interacted have shaped me in a number of ways and I was fascinated by their kindness …Their critical thinking and inquisitive approach during their facilitated seminars and workshops prompted/inspired me to pursue PhD studies from which I graduated in 2010.
Now head of the Department of Orthopaedics at Makerere's Mulago Hospital, Dr. Kajja is working with HVO to provide those same benefits to the new classes of students. Knowing the profound impact of working with HVO volunteers from his own education, Dr. Kajja believes the HVO project will continue to improve the essential practice of orthopaedics in Uganda.
To hear more about volunteering in Uganda and meet Dr. Kajja in person, please join us for the Orthopaedics Overseas Luncheon. Tickets are $100 and can be purchased online.
We look forward to meeting you and discussing how volunteering overseas can improve global orthopaedic care!
If you are not able to attend the luncheon while at the AAOS meeting, be sure to stop by HVO's booth in the exhibit hall (Booth #1316). Our staff will be ready to answer your questions and get you started on your volunteer journey.
Comments are closed.