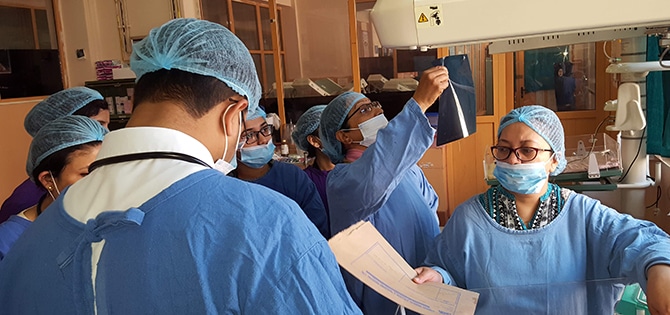 Impact
We implement innovative, effective programs that offer teaching, training, and continuing education to local health care workers in resource-scarce countries. We focus on meeting the needs of our partners and creating programs that build local capacity.
HVO fosters equitable partnerships to deliver education and training to the global health workforce. We know that well-trained, skilled, and motivated health care providers are key to addressing global health challenges and achieving health for all.
Health workers, especially those based in resource-scarce countries, are on the front lines in meeting public health needs and fighting against public health threats, such as epidemics. They provide essential education to patients in the prevention and treatment of disease and help communities cope with the effects of climate change, conflict, and other large-scale threats to population health. We must accelerate the exchange of knowledge between practicing providers and support those in training to ensure that all communities have access to timely and effective health services.
HVO transforms lives by strengthening the global health workforce through education and training. We cultivate and steward partnerships to bring education and professional development opportunities to health workers. We uphold our values of innovation, partnership, stewardship, and excellence. Most importantly, we work toward quality health care for all people.
For more than 34 years, Health Volunteers Overseas has implemented innovative, effective, and sustainable programs that meet the needs of our host countries and institutions and build local capacity.
Each year, more than 3,000 health professionals receive training and mentoring. Tens of thousands of lives have been transformed as health workers received education, training, and professional opportunity to sustain and improve their work. This health workforce, in turn, strengthened health systems and led to more and better care for patients in resource-scarce countries around the world.
More than 11,500 completed assignments in the past 34 years have left volunteers with a renewed sense of purpose and passion for medicine and a better understanding of global need.
We have created a global community that brings together a diverse group of health care workers, professional associations, overseas health institutions, organizational partners, and dedicated individuals who work together to bring long-term solutions to the global health workforce crisis.