blog
Volunteer Spotlight: HVO Golden Apple Award Recipient Alexia Knapp, MD
As a dermatology resident, Alexia Knapp, MD, seized upon the opportunity to complete a rotation at the Regional Dermatology Training Centre in Moshi, Tanzania. The experience sparked an enduring interest in global health and tropical medicine, which led to multiple volunteer assignments at HVO's collaborating institution, the Mbarara University of Science and Technology (MUST) in Mbarara, Uganda.
"I have done a lot of teaching, but I have also done a lot of learning," Dr. Knapp says of her work with HVO.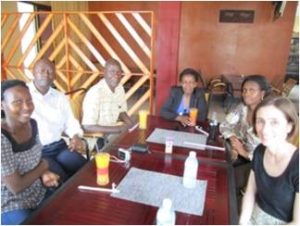 Dr. Knapp also volunteers as a telemedicine consultant for Médecins Sans Frontières/Doctors Without Borders (MSF), and trains physicians on skin diseases in refugee populations through the International Organization for Migration. In recognition of her extraordinary contribution to the global practice of dermatology, HVO honored Dr. Knapp with a 2018 Golden Apple Award last April.
During her first HVO assignment back in 2015, Dr. Knapp recalls delivering lectures and teaching suturing and clinical skills. At the same time, she learned a lot from the post-graduates with whom she worked.
As a result of her work with HVO, Dr. Knapp has a deeper understanding of many of the conditions her colleagues are facing when she volunteers as a teleconsultant for MSF, and she is more creative in devising treatment recommendations that can be implemented in low-resource settings.
"With each visit to MUST I have learned much more about skin diseases in Africans and how to manage [these diseases] with limited resources," she says.
Dr. Knapp also applies these lessons in her work as a general dermatologist at HealthPartners Medical Group in St. Paul, Minnesota, where she helped found a refugee, travel medicine, and HIV dermatology clinic, and is a member of the University of Minnesota Global Medicine Pathway Core Faculty in dermatology.
"The skills that I work on and I practice when I am [on assignment] with HVO also translate when I am back in the US and training either dermatology residents, or non-dermatology residents in a global health pathway," she reflects.
Of course, it is equally important to Dr. Knapp to serve as an educator and mentor to her fellow dermatologists and those in-training whom she encounters while on assignment. During her second HVO assignment in 2016, Dr. Knapp worked alongside a newly trained dermatologist, Dr. Leo Odongo.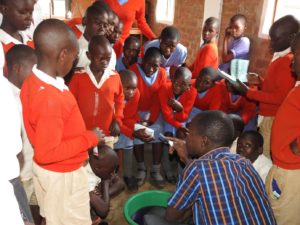 Dr. Knapp remained in touch with Dr. Odongo via email after she had returned to the US, and he had relocated from Mbarara to the much smaller city of Kabale, where the community previously had no access to dermatologic care. Dr. Odongo began volunteering his time to run a free dermatology clinic at the local university, but he wanted to do even more to reach vulnerable populations in nearby prisons, schools and orphanages.
With Dr. Knapp's guidance and sponsorship, Dr. Odongo submitted a proposal to the American Academy of Dermatology – a sponsor of HVO's dermatology program – and received a grant to fund several outreach clinics. To date, Dr. Odongo has established eight clinics and treated 253 patients. He has also trained staff at the sites he visited to prevent, recognize, and treat common skin infections.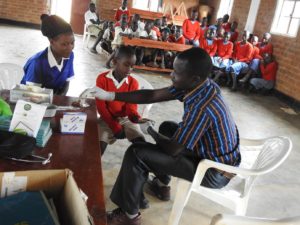 Beyond providing treatment and training, Dr. Knapp says that Dr. Odongo has raised awareness of the field of dermatology within the local community.
"Now people are aware that this exists as a specialty, and hopefully that will make them more likely to seek care in the future." Dr. Knapp hopes that an increase in demand among patients will result in further growth of dermatology as a profession in Uganda.
Dr. Knapp has certainly done her part to contribute to the development of the field, not just in Uganda, but throughout east Africa. On her most recent assignment at MUST, she worked with seven post-graduates who hailed from Uganda, Rwanda, Somalia, and Kenya—all with plans to return and practice in their home countries. Like Dr. Odongo, these dedicated dermatology professionals will serve as ambassadors for the field in areas where access to services is limited.
"I think the story of Dr. Odongo is a good example of the impact of the HVO model," says Dr. Knapp. With help and support from his HVO colleagues, "He was able to bring care to many other people that otherwise would not have had it."
Keep an eye out for all our Golden Apple awardee features over the next several months! Just follow our "Health Worker Story" category.