blog
Celebrating Volunteer Achievements: Dr. Lena Dohlman Receives Global Health Service Award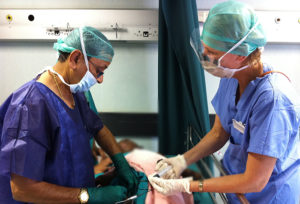 Over the course of numerous overseas assignments, anesthesiologist Lena Dohlman, MD, MPH, has seen the incredible impact HVO volunteers have on the quality and availability of care in resource-scarce countries. Dr. Dohlman has also witnessed how an overseas teaching assignment can inspire and inform the perspective of providers accustomed to practicing medicine in high-income countries. She has experienced this effect first-hand through multiple assignments at HVO project sites in St. Lucia, Malawi, Vietnam and South Africa. She has also viewed it through the eyes of others when serving three years as project director at HVO's anesthesia training project in South Africa – a project that closed in 2013 after eight active years – and during her fifteen years as a member of HVO's anesthesia steering committee. After completing a recent assignment in Ho Chi Minh City, Vietnam she wrote:
"I find it professionally invigorating to spend time with my Vietnamese colleagues. It really brings back my enthusiasm for medicine, teaching and anesthesia. It is in so many ways an enriching experience."
Believing that senior anesthesia residents could benefit from the experience of volunteering in resource-scarce countries early in their careers, Dr. Dohlman worked in collaboration with HVO and the Society for Education in Anesthesia (SEA) to launch the SEA-HVO Traveling Fellowship Program. Today, Dr. Dohlman serves as Ex-Officio Director of this program, and continues to volunteer under the auspices of HVO on a regular basis. She will also serve as project director for HVO's upcoming anesthesia training project in Hue, Vietnam.
Last month, Dr. Dohlman's dedication to improving global health through education was honored by her employer of 17 years—Massachusetts General Hospital at the 5th Annual Mass General Global Health Expo. Dr. Dohlman was awarded the Mass General Global Health Service Award for Excellence in Teaching and Mentoring in recognition of her long-time commitment to educating anesthesia providers in resource-scarce countries.
Dr. Dohlman is an invaluable member of the HVO community and we are delighted to share the news of her latest achievement! View our current volunteer opportunities in anesthesia or learn more about the SEA-HVO Fellowship and other funding opportunities. You can also support a SEA-HVO Fellow with your own contribution!
Comments are closed.