blog
Empowering Nurses Through Education
"Nurses respond to the health needs of people in all settings and throughout the lifespan. Their roles are critical in achieving global mandates such as universal health coverage and the Sustainable Development Goals."— The World Health Organization, "Global strategic directions for strengthening nursing and midwifery 2016–2020"
Nurses are an essential component of the global health workforce, and a necessary part of any well-functioning health system. Nurses can be found among the cadre of front line health workers responding to global health emergencies and epidemics. They assist patients in the management of chronic conditions from HIV/AIDS to diabetes. Nurses may care for expectant mothers and their newborns, or they may provide end-of-life care to terminally ill patients.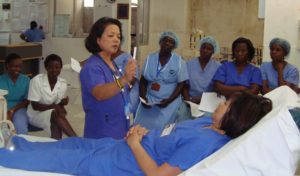 Building the capacity of the global nursing workforce by supporting nurse educators and nurse education programs in resource-scarce countries is an opportunity to improve the quality and availability of care for individuals of varying health statuses and at all stages of life. HVO is pleased to offer this opportunity to nurses through our nursing education program.
With the support of our partners at the American Association of Colleges of Nursing (AACN), HVO is able to facilitate assignments for dedicated nurses at project sites around the globe. Collectively, these volunteers help prepare practicing nurses and those in-training to provide an array of health services, including symptom management for patients with chronic illnesses, end-of-life care for the terminally ill, maternal and newborn care, trauma care and wound management, and mental health services. In 2016, HVO nursing education volunteers trained more than 80 providers across four different countries.
Nurses interested in volunteering to strengthen nursing education programs in resource-scarce countries may be eligible for funding to help off-set the costs associated with their assignment. HVO offers funding to qualified nursing education volunteers through the Plotnick Nursing Education Fund. This fund was created in honor of HVO leader and nursing education advocate, Julia Plotnick, RN, MPH, FAAN, RADM, USPHS (ret). Funding is available for nurses with a confirmed assignment at an HVO project site. Priority is given to those volunteering for four weeks or more. Volunteers may also be able to obtain a scholarship through the non-profit organization One Nurse at a Time.
Ready to volunteer? Use our Project Finder to identify the HVO project site that is just right for you, check out our video on the volunteer placement process, and complete your application.
Not a health care professional? You can still help support nurses and advance nursing education programs around the globe by making a donation to the Plotnick Nursing Education Fund.
Comments are closed.