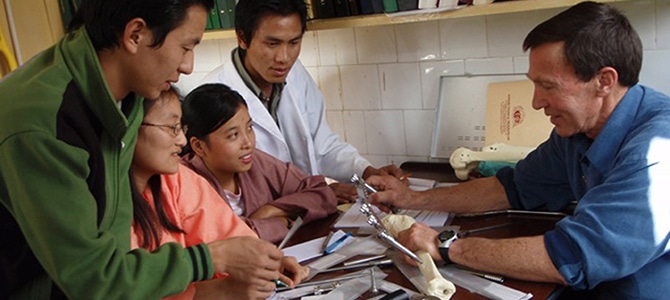 About Us
At Health Volunteers Overseas, we often talk about the transformative power of education. Health workers who are given access to hands-on training, resources and mentorship gain the confidence and skills needed to better serve their patients. We know that well-trained, skilled and motivated health care providers are essential to ensuring quality health care for everyone, wherever they live.
That is why, for more than three decades, our organization has improved the availability and quality of health care through the education, training and professional development of the health workforce in resource-scarce countries.
A GLOBAL SHORTAGE
The World Health Organization (WHO) estimates that the global deficit of health care workers in 2013 was approximately 17.4 million – a figure that could grow to exceed 18 million by 2030. This growing shortage disproportionately affects low- and middle-income countries, denying basic health services to millions and limiting access to life-saving care, as well as economic and social advancement.
There is no health without a health workforce. In Working for health and growth: investing in the health workforce, the WHO High-Level Commission on Health Employment and Economic Growth highlights the essential role of health workers:
With the Ebola outbreak in West Africa, we have seen how inaction and chronic underinvestment can compromise human health, and also lead to serious economic and social setbacks. Investing in health workers is one part of the broader objective of strengthening health systems and social protection and essentially constitutes the first line of defense against international health crises. Complementing monitoring and crisis response mechanisms, health workers are the cornerstone of a resilient health system. We need these 'Everyday Heroes' to meet these needs and expectations.
HVO fosters partnerships between institutions, local providers, volunteers and sponsor organizations, so that, together, we can address the global health workforce shortage.  HVO recruits trained physicians, nurses, dentists, and allied health professionals to support their colleagues overseas through education, mentorship and inter-professional collaboration. Our volunteers train the next generation of providers while mentoring and working alongside those already in practice to support and sustain them in their work.
We invest in health workers, helping to build health system resilience and capacity to ensure all people will have access to high quality health care delivered by local health professionals.
TOGETHER TO ENSURE CARE FOR ALL
We hope you will join our global health community by becoming a member of HVO, supporting our work, or volunteering your time and expertise. For every injured child, every patient facing an uncertain future due to a cancer diagnosis, and every wheelchair user yearning for greater independence, your support will help to ensure that each of them can access quality care when they need it most.
We each have a role to play to overcome the global health workforce shortage. The challenges we face are significant, but ensuring access to safe, affordable, compassionate care is possible if we draw on our greatest strength: the power of people working together.